Memorial service to take place July 28th at St. Dominic's Church, 2390 Bush St., San Francisco at 11:30 a.m.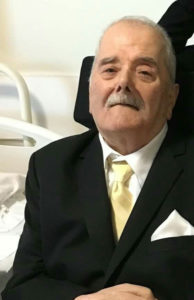 SAN FRANCISCO, CA – The life and legacy of Peter Rodriguez, the founder of The Mexican Museum, will be remembered during the funeral service for the globally-recognized artist on Thursday, July 28th at St. Dominic's Church, 2390 Bush St. in San Francisco, beginning at 11:30 a.m. The community is welcome to attend, joining Rodriguez's family, friends, and colleagues in honoring the man and his lifelong mission to keep Mexican, Mexican-American, Chicano, and Latino art at the forefront of the art world.
Rodriguez passed away on July 1, 2016 at the age of 90. For the past three years, he had resided at the Laguna Honda Hospital and Rehabilitation Center in San Francisco. He remained active in creating art at Laguna Honda's Art with Elders program up until a few days before his 90thth birthday. The Mexican Museum joins the world in mourning his passing.
"No one contributed more to the Latino art community than Peter," said Andrew M. Kluger, Chair of The Mexican Museum Board of Trustees. "He was a true visionary whose legacy is firmly established in our world-class museum, where future generations can learn about and be inspired by Mexican art and culture."
About Peter Rodriguez: Born on June 25, 1926 in Stockton, CA, to Jesus Rodriguez and Guadalupe Garcia Rodriguez, Rodriguez was one of eleven children. The artistic ability that would eventually garner him international acclaim began to shine around age seven. It was a drawing he did of the "Katzenjammer Kids," a popular American comic strip at the time, that led his then-teacher, Harold Majarovich, to encourage Rodriguez to become an artist. In the seventh grade, Rodriguez's artwork was selected for the "Young America Paints Exhibition" in New York City. A year later, in 1939, his work was shown at the San Francisco World's Fair on Treasure Island.
Rodriguez lived in San Francisco as a young man, working in the advertising and fashion industries and winning several national awards for his window displays. He was also a self-taught artist who painted at home, finding his calling in abstract art, using oils and acrylic, and winning numerous art competition awards. In the early 1960s, he was invited to show his work at the Museo del Estado in Guadalajara, Mexico, an event that marked his first visit to his parents' homeland. He visited Mexico City during this time, falling in love with the ancient city of Teotihuacán, as well as Mexico City's museums and galleries.
In 1968, Rodriguez moved to Tlalpan, a suburb of Mexico City, where his appreciation for Mexican art and culture continued to grow as he traveled throughout the Yucatan and the rest of Mexico. Upon his return to San Francisco in the 1970s, he co-founded the Galeria de la Raza, a historically significant community-based arts organization that exists to this day. He also went on to serve as a Commissioner of the San Francisco Arts Commission.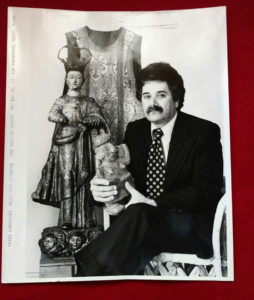 In 1975, Rodriguez founded The Mexican Museum on Folsom Street in San Francisco's Mission District. Recognizing a void in public access to Mexican and Mexican-American art, he saw the museum as a way to collect, preserve, exhibit, and interpret the artistry and culture of Mexico and Mexican-American communities in the United States. Rodriguez served as the founding director and curator of the museum for 10 years, with museum collections expanding to encompass Chicano and Latino art. During that decade, he provided a lasting vision for the institution and established it as one of the first professionally-run, ethnic-based art museums in the nation.
"What an honor it has been to see my uncle's legacy unfold before us," said Irene Christopher, Peter Rodriguez's niece. "He created the first American institution of its kind to devote itself to Mexican and Mexican-American art, and later Chicano and Latino art, outside of Mexico. And he did it without any assistance from any other institution. My uncle worked tirelessly, and with passion and drive, to personally demonstrate that, as a Mexican-American, we can achieve any dream by ourselves."
Dr. Amalia Mesa-Bains, Professor Emerita of Visual and Public Art, California State University at Monterey Bay, and MacArthur Fellow and former Commissioner of Arts for San Francisco also commented, "Peter Rodriguez was becoming an established painter when he made his first trip to Mexico and began a lifelong reclamation of Mexican art and culture. In a time when there was little interest in Mexican culture, Peter pursued the prophetic vision of a Mexican Museum, the first of its kind in the United States. Against all odds, he began a collection of Mexican and Chicano art that has expanded to become an extraordinary expression of American Art. His tenacity and willingness to set aside much of his own career at its height, as well as his single-minded devotion, brought in other artists in Mexico and the U.S. to join him in this effort. Peter Rodriguez will be remembered for his aesthetic taste, his critical eye, and his prescient recognition of the importance of Latino culture to the making of America."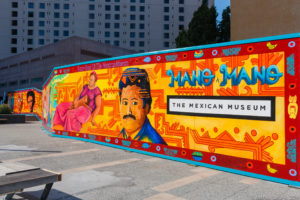 About The Mexican Museum: Founded by the well-known San Francisco artist Peter Rodriguez in 1975 in the heart of the Mission District, The Mexican Museum is located at the Fort Mason Center. It is the realization of his vision to present the aesthetic expression of the Mexican and Mexican American people. Today, the museum's vision has expanded to include the full scope of the Mexican, Chicano, and Latino experience – including the arts, history, and heritage of their respective cultures.
In 2012, The Mexican Museum became an Affiliate of the Smithsonian Institution, the world's largest museum and research complex. The Museum joins over 200 organizations in 45 states, Puerto Rico and Panama that are in association with the Smithsonian. The Mexican Museum currently has a permanent collection of more than 16,500 objects reflecting Pre-Hispanic, Colonial, Popular, Modern and Contemporary Mexican, Mexican-American, Latin American, Latino, and Chicano art.
The Mexican Museum, open Thursday – Sunday from noon to 4 p.m., is located at the Fort Mason Center, Building D, Marina Boulevard and Buchanan Street, in San Francisco. Admission is FREE. The Museum offers a wide variety of programs, including Family Sundays, exhibitions, special events, lectures, and public programming throughout the San Francisco Bay Area. For more information, please visit: http://www.mexicanmuseum.org or call (415) 202-9700.
The Mexican Museum has begun construction of its permanent home in the heart of the Yerba Buena Gardens Art District, which is expected to open in 2019. People are encouraged to support The Mexican Museum by becoming new members, or by joining the Builder's Society online or by mailing a check to: The Mexican Museum, Fort Mason Center, 2 Marina Boulevard, Building D, San Francisco, CA 94123. For more information on the Builder's Society, please contact Edgar De Sola at (415) 202-9700 ext. 225.