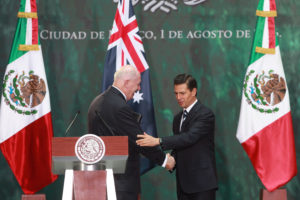 Mexico City, Aug 1 (EFE).- Mexico and Australia agreed on Monday on the need to take advantage of the "enormous potential" in their bilateral relationship, which still has not been adequately exploited, to mutually benefit from trade, tourism and education.

Within the framework of his state visit to the Mexican capital, Australian Governor-General Peter Cosgrove agreed with Mexican President Enrique Peña Nieto to continue moving forward with political dialogue at all levels.

This will "promote greater growth in economic exchanges," given that, although annual bilateral trade volume amounts to more than $1.6 billion, this is "a figure still much below the enormous potential we have," Peña Nieto emphasized in remarks to the media at the National Palace.

The two nations share positioning within the international order, with both being members of G20, the MIKTA Group – comprised of Mexico, Indonesia, South Korea, Turkey and Australia – and as signers of the Trans-Pacific Partnership, the Mexican leader noted.

Ratification of the TPP, he said, "without a doubt will make possible greater integration between the economies of the countries of the Americas and (those) of the Asian region."

Peña Nieto said that he and Cosgrove had discussed Australian education models and "the great opportunity represented by (giving) Mexican students … access to different levels of training in Australia."

Australia is one of the five most important destinations by volume for Mexican students.
Cosgrove, who traveled to Mexico on the 50th anniversary of diplomatic relations between the two nations, emphasized the opportunities in the tourism sector afforded by open dialogue.

"More and more Australians are visiting Mexico," he said, noting that 80,000 of his countrymen had done so last year, a situation that suggests that this is an area where the two nations can "work even more" closely together.

He said that cooperation in the environmental, innovation and science and technology sectors were discussed at their meeting, and he committed his nation to continuing to cooperate with Mexico on "sustainable development, humanitarian issues and arms control," among other areas.