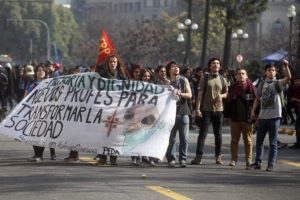 Santiago, Aug 4 (EFE).- Chilean students took to the streets once again Thursday in this capital and other cities to denounce a proposed higher education overhaul that they say does not go far enough to correct injustices.
In Santiago, demonstrators and police clashed after some of the several thousand high-school and college students tried to extend their march beyond the route authorized by the city government.
Once again, the most serious incident occurred at the National Gratitude Church shortly before the march, when several hooded individuals hurled Molotov cocktails at the main door.
A spokesman for Chile's militarized national police, the Carabineros, Col. Rene Martinez, told local media that workers at that Catholic church put out the flames and that authorities were reviewing security footage to try to identify the perpetrators, who immediately fled the scene after the attack.
"No pamphlets or signs alluding to anything were found," Martinez said.
In an earlier student march on June 9, hooded assailants entered that same church, removed an old, life-sized image of Jesus on the cross and destroyed it in the street.
Marches Thursday in Valparaiso, Concepcion and other cities also escalated into clashes with police.
President Michelle Bachelet pledged during her successful election campaign in 2013 that she would make college free and said the initial phase would aid 70 percent of the poorest students.
But a sluggish economy led the government to retreat from that target and the implementation of the plan has been rocky.
Students have held constant demonstrations and occupied schools in recent months to pressure the national government.
The young activists say Bachelet's plan doesn't do enough to reform an educational system still marked by the legacy of the 1973-1990 Augusto Pinochet dictatorship, which encouraged the proliferation of for-profit schools and starved public education of resources.