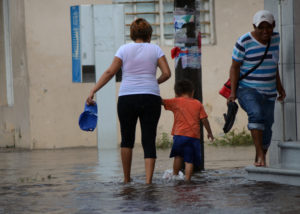 Mexico City, Aug 5 (EFE).- Tropical Storm Earl, which after crossing southeastern Mexico is now passing over the Gulf Coast, has a number of states on the alert because of its potential for torrential rains, the emergency management agency said Friday.
The agency declared a red alert – maximum danger – for central and western Tabasco state and northwestern Chiapas, as well as eastern Tabasco, northeastern Chiapas and southwestern Campeche, though it is already headed away from those areas.
An orange alert – high danger – was decreed for the north and west of Chiapas, southern Veracruz, northwest Oaxaca, south Campeche and central Chiapas, though the storm has moved on from the last two areas.
At the same time, central Veracruz, north and southeast Oaxaca and west Chiapas are on yellow alert – moderate danger – while blue and green alerts – which designate minor dangers – have been assigned to other regions of Oaxaca in southern Mexico, to Veracruz in the east, and to the central states of Puebla and Tlaxcala.
According to the latest bulletin of the National Meteorological Service, or SMN, the tropical storm was 55 kilometers (34 miles) north-northeast of Coatzacoalcos en Veracruz, and 105 kilometers (65 miles) west of Puerto Dos Bocas, Tabasco.
"There will also be strong winds with gusts up to 60 kph (37 mph) as well as waves 2 to 3 meters (6 to 9 feet) high on the Tabasco coast and the southern coast of Veracruz, and in maritime areas up to 3.5 meters (11 feet) high," it said.
The weather phenomenon, which on Wednesday grew to hurricane force and later degraded to a tropical storm, left at least one person injured, 466 people affected, 351 evacuated and 246 in temporary shelters, on its way through Guatemala.