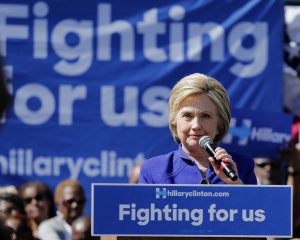 Washington, Aug 10 (EFE).- Democratic presidential nominee Hillary Clinton said Wednesday that her Republican rival, Donald Trump, had engaged in a "casual inciting of violence" in his remarks to gun owners and Second Amendment rights defenders by saying that they could "do something" to prevent her from becoming president.

"Words matter, my friends. And if you are running to be president or you are president of the United States, words can have tremendous consequences," the former U.S. secretary of state told those attending a campaign rally in Des Moines, Iowa.

"Yesterday, we witnessed the latest in a long line of casual comments from Donald Trump that crossed the line. … Every single one of these incidences shows us that Donald Trump simply does not have the temperament to be president and commander in chief of the United States," she said.

Clinton insisted that this election cycle is not "normal," adding that she had taken note of the fact that Republican figures and voters were joining her campaign upon deciding that Trump does not represent their values.

The New York billionaire once again found himself in the center of controversy after telling a North Carolina political rally on Tuesday that gun rights defenders can "do something" to prevent Clinton from winning the November election, a remark that has been interpreted by broad groups as a call to use violence.

Trump had said that Clinton, if elected, would "abolish" the Second Amendment to the Constitution, which establishes the right to "keep and bear arms."

"By the way, if she gets to pick her judges, nothing you can do, folks. Although the Second Amendment people, maybe there is, I don't know," he said.

Those comments immediately sparked a firestorm of criticism of Trump both on Twitter and in the mainline communications media, and particularly among Democratic sectors, that the magnate had, in effect, issued a veiled call for violence against the former first lady.

The Democratic nominee's campaign director, Robby Mook, reacted at the time in a statement saying that "This is simple – what Trump is saying is dangerous. A person seeking to be the President of the United States should not suggest violence in any way."

Trump's campaign, however, responded in another communique in which communications director Jason Miller said the mogul was referring to the "power of unification" in his remarks, adding that "Second Amendment people have amazing spirit and are tremendously unified, which gives them great political power. And this year, they will be voting in record numbers, and it won't be for Hillary Clinton, it will be for Donald Trump."

During Clinton's speech in Iowa, one person was intercepted by security agents guarding her when that individual tried to get onto the stage with her.