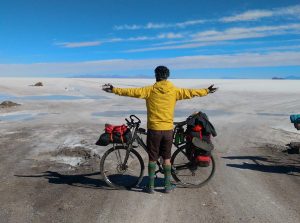 La Paz, Aug 10 (EFE).- Juan Dual, a 31-year-old Spanish nurse who lost a good part of his digestive tract to cancer, has toured much of Bolivia on a bicycle and is now about to head to Argentina on a Latin American journey to warn about the disease.
Dual began his trek last Nov. 15 in Nicaragua, continuing through Panama, Colombia, Ecuador and Peru, and now he is in Bolivia and expects to end his journey around yearend in the Argentine city of Ushuaia, after visiting Chile.
He told EFE that he is making the lengthy and difficult ride for his health, calling it an experience that also has promoted his inner growth and is helping others find the strength to face the disease.
Dual, who was born in Valencia, has an extensive family history of cancer, with his grandfather and uncles dying from colon cancer and his father also succumbing to the disease. When he was 13, he said, doctors detected in him a mutation in the Adenomatous Polyposis Coli (APG) gene, meaning that he had a 99.8 percent chance of developing cancer.
As a result of the disease, he had his colon and rectum removed at age 19 and eight years later doctors removed his stomach and gall bladder. Although Dual is missing parts of his digestive tract, he says that that wasn't the most difficult thing about dealing with the disease.
"Digestion is performed in the small intestine and there are no serious problems. I just avoid eating fatty food, I don't eat on the street and I ingest food in small amounts," he said.
Although he has learned to accommodate himself to his situation, he went through tough periods during his illness, one of the worst being "after the last surgery in 2012, when in two or three months I went from 106 to 57 kilograms (233 to 125 pounds)," he said, adding that he came close to losing his life during the colon and stomach surgeries.
Dual did not let the cancer keep him bedridden, however, and now he defines himself as an active person who wants to live, a passion that he is proving via cycling.
"I began to do mountain races and I felt good because people felt motivated by what I was doing in my situation. From that came the motivation to start this trip," he said.
He has come in contact with many health and other institutions during his trip, but he says that one of the most difficult situations he has encountered has been in Bolivia. "The way in which the fight against cancer, and health, is focused (in Bolivia) is very deficient. From speaking with patients and hospital volunteers, my conclusion is that if you don't have money, you die," he said.
Dual has paid for his journey from his savings and help from his friends, but he is also seeking sponsors to help him continue the campaign he began and to collect funds for the Spanish Association Against Cancer, or AECC.