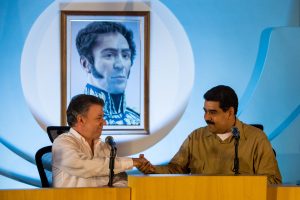 Represa de Macagua, Venezuela, Aug 11 (EFE).- Venezuelan President Nicolas Maduro and his Colombian counterpart Juan Manuel Santos agreed Thursday to an "orderly, controlled and gradual" reopening of the common border between their nations, a frontier that has been closed for almost a year after a decision by Caracas.
"We're going to open the border in an orderly way, a controlled way and a gradual way," announced Santos at a press conference with Maduro after the nearly two-and-a-half-hour meeting held at the Macagua Dam located in Venezuela's southwestern Bolivar state.
The leaders said that the opening of the border will begin with pedestrian traffic at five points along the frontier starting on Saturday, Aug. 13, all the while under careful "immigration control."
The five crossing points are the Simon Bolivar Bridge and Union Bridge (which connects towns in Colombia's Norte de Santander province and Venezuela's Tachira state), the Jose Antonio Paez Bridge (between Arauca and Apure), Paraguachon (between La Guajira and Zulia) and Puerto Carreño (between Vichada, Apure and Amazonas).
The schedule established for pedestrian traffic will be from 6 a.m. until 9 p.m. Venezuelan time, which is 5 a.m. until 8 p.m. Colombian time.
Santos also emphasized that border security will be a key issue in normalizing activities in the border zone and that to ensure it a bilateral center had been created for "the fight against international crime," which the security ministers of the two nations will jointly manage.
In the trade area, there will be a binational agency that will operate to ensure "the ongoing exchange of customs information" to prevent smuggling of different products in the region.
The Colombian president said that indications of medicine smuggling has been detected and, as a result, "a binational technical committee on health and sanitation will be reactivated to work jointly on issues such as the prevention and control of certain health problems among the border populations."
Caracas and Bogota agreed to meet on Aug. 23 to deal with the issue of gasoline and natural gas smuggling from Venezuela (where energy products are subsidized) to Colombia, where they can be sold for much higher prices.
Maduro said that the decision to reopen the border was made on July 23 when the two presidents met in Havana, adding that they had discussed the matter with their ministers so that "efficacy and efficiency" will prevail in the process.
"I think we're on the threshold of providing an example of how relations of all kinds – human, political and diplomatic – can be built and rebuilt," Maduro said.
The Venezuelan leader also said that he had told Santos that Caracas would do everything within its power to ensure that a peace agreement can be reached between the Colombian government and leftist guerrillas in the neighboring country.