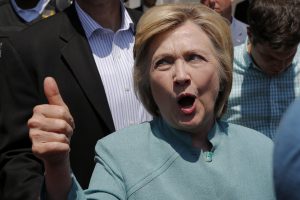 Washington, Aug 12 (EFE).- Democratic presidential candidate Hillary Clinton and husband Bill Clinton released Friday their joint 2015 tax return, which shows an income of $10.6 million, on which they paid an effective tax rate of 43.2 percent, including federal, state and local taxes.
The Clintons donated 9.8 percent of their gross income of $10.6 million to charity organizations, according to the return, published on the candidate's Web page.
Their 2015 income was less than half the $28 million the Clintons made in 2014.
With this new tax return, the Clintons have made public their income for every year since 1977, according to the campaign.
Clinton's running mate and vice-presidential hopeful Tim Kaine and his wife, Anne Holton, also published their tax returns for the last 10 years up to 2015, when they paid 25.6 percent of their income in combined federal, state and local taxes.
In Kaine's last year as Virginia governor – he left office on Jan. 16, 2010 – he and his wife paid a joint tax of 18.7 percent.
According to the Clinton campaign, the Kaines have donated 7.5 percent of their gross income to charity organizations over the past 10 years.
In a statement, the communications director for the Clinton campaign, Jennifer Palmier, said that with this new release of income tax information, "Hillary Clinton and Tim Kaine continue to set the standard for financial transparency."
The Clinton campaign used this disclosure of money earned and taxes paid to ask her political rival, New York magnate Donald Trump, to release his income tax returns, something he has repeatedly refused to do on grounds that they are under federal audit, something the Internal Revenue Service, or IRS, says shouldn't be a problem.
"Donald Trump is hiding behind fake excuses and backtracking on his previous promises to release his tax returns. He has failed to provide the public with the most basic financial information disclosed by every major candidate in the last 40 years. What is he trying to hide?" Palmieri asked.