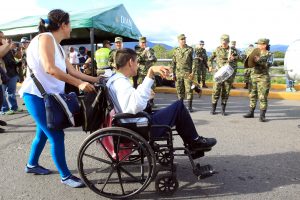 Cucuta, Colombia, Aug 13 (EFE).- Pedestrian crossings between Colombia and Venezuela that had been closed for nearly a year were reopened early Saturday, allowing thousands of Venezuelans to make their way to this border city to buy food and medicine.
Hours before the border reopening, which occurred as scheduled at 5:00 a.m. Colombia time (1000 GMT), thousands of people had gathered on the Venezuelan side of the Simon Bolivar International Bridge, which links Cucuta with the Venezuelan town of San Antonio del Tachira, EFE observed.
The cross-border travel occurred without incident even though long lines formed because some Venezuelan citizens did not possess a new provisional migration card.
That document was put into use after both governments approved it as part of the new measures associated with the border reopening.
"People can come during daytime hours and every day from now on. It's a pedestrian crossing that's open so the flow of people takes place smoothly," Gen. Gustavo Moreno, the director of Colombia's Fiscal and Customs Police, told EFE while supervising the security operation at the Simon Bolivar International Bridge.
The crossing between Cucuta and San Antonio was closed on Aug. 19, 2015, as part of a series of measures implemented by Venezuelan President Nicolas Maduro to combat smuggling and purported drug traffickers operating in the border region.
He later ordered the closure of the other crossings along the 2,219-kilometer (1,380-mile) border.
But Maduro and Colombian counterpart Juan Manuel Santos announced after a meeting Thursday in the Venezuelan city of Puerto Ordaz that the border would be reopened in an orderly and gradual manner, starting Saturday during daytime hours.
The Venezuelan citizens arriving in Cucuta included women and men of all ages who had been anxiously waiting for the chance to cross the border to buy food and medicine.
"I've had arthrosis for seven years and I haven't been able to get medicine for six months," Marco Tulio Berdugo, a Colombian who has lived in Venezuela since 1975, told EFE after entering Cucuta early Saturday morning.
He added that he would also look for some food to take back to Venezuela, an oil-rich, leftist-led country that is in severe recession due in part to the plunge in global crude prices and is suffering acute shortages of basic goods.
Four other border crossings also were reopened Saturday morning, including the Union Bridge that links the Colombian town of Puerto Santander with Boca del Grita, Venezuela, and the Jose Antonio Paez Bridge that connects the northeastern Colombia province of Arauca and the western Venezuela state of Apure.
But the Francisco de Paula Santander Bridge, which links Cucuta with the Venezuelan town of Ureña, was not included in this gradual reopening.