By Bob Schulman
Photos courtesy of Ciclismo Classico.
"Slow down, you move too fast…you got to make the morning last."
(From Simon and Garfunkel's "The 59th Street Bridge")
If you haven't been to Bermuda before, or even if you have, exploring this tropical isle at the slower pace of a bicycle allows you to savor the views, colors and flavors most visitors never see. Such are some of the payoffs of a new four-day bike tour, set for Nov. 3-6 this year by the cycling pros at Arlington, Mass.-based Ciclismo Classico.
What's more, guests on the tour (www.ciclismoclassico.com/trips/cycle-sea-Bermuda)
will stay at the elegant Newstead Belmont Hills Golf Resort & Spa, known for its luxury accommodations and fine dining. Decorated chef and cyclist Jean Claude Garzia will be among participants on the tour, which will wind through roughly 30 miles a day on flat and rolling terrain.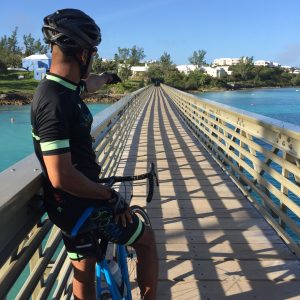 "This brand new weekend escape to Bermuda will liven up your senses and warm your body and soul," said Ciclismo Classico Founder/CEO Lauren Hefferon.
"Turquoise waters, pink sand beaches, green golf courses, and colorful homes with white roofs make for some of the most scenic cycling you will ever experience."
Participants will bike the entire island with local guides, stopping for panoramic ocean views and visits to historic sites, forts, lighthouses and a nature reserve while experiencing Bermuda's British, African and Portuguese influences.
Among highlights of the tour will be sightseeing in the towns of St. George and Hamilton and the Royal Naval Dockyard.
Besides a free round of golf, guests will get a chance to kayak above the South Shore's coral reefs in clear-bottomed boats.
Prices for the tour start at $2,395 per person, including your bike on Bermuda, your resort accommodations, lots of meals, a ground shuttle to the airport and other services (but you're on your own for airfares to and from the island).
About a two-hour flight from the East Coast of the U.S., Bermuda is a British Overseas Territory named after Spanish explorer Juan de Bermudez, the first European explorer to reach this 21-square-mile island.
Today, thousands of tourists are drawn to Bermuda's pink sand beaches, cerulean blue waters and close-in scuba diving reefs.