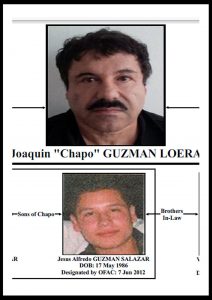 Puerto Vallarta, Mexico, Aug 16 (EFE).- The Jalisco New Generation Cartel (CJNG) has demonstrated their growing power among criminal organizations in Mexico after kidnapping Jesus Alfredo Guzman Salazar, son of Joaquin 'El Chapo' Guzman, the incarcerated leader of the Sinaloa cartel.
Jalisco state prosecutor Eduardo Almaguer said today at a press conference that Guzman Salazar, 29, is one of six men abducted early Monday at a luxury restaurant called La Leche in Puerto Vallarta.
He noted that Guzman Salazar's identity was confirmed from the objects found in the abandoned vehicles of the victims in the parking lot at the restaurant, this information was verified by various security agencies and expert opinions.
When asked about the alleged involvement of CJNG, Almaguer responded some authors of the abduction have been identified and that the connections "lead to the conclusion that they belong to this criminal group which has been operating in recent years" in Jalisco.
He also mentioned that the Office of Jalisco has so far not received any complaints requesting the location of persons deprived of their liberty.
There was a group of 16 people in the restaurant but one individual escaped. Six men and nine women were initially captured but the women were all later released, according to the testimony of workers at the restaurant.
Almaguer said that he was unaware of the motives of kidnapping.
The state prosecutor launched an operation on Monday to locate the hostages and capture those responsible.