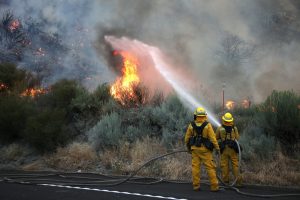 Los Angeles, Aug 18 (EFE).- The "Blue Cut" wildfire, which started earlier this week about 115 kilometers( (70 miles) northeast of Los Angeles, continued expanding on Thursday after burning more than 10,370 hectares (25,605 acres) and forcing the evacuation of some 82,600 people.

The latest report from emergency management agencies on the InciWeb site said the fire, which is spreading from Cajon Pass in a mountainous area in San Bernardino County, has caused the temporary evacuation of some 34,500 houses and the closing of a number of schools.

After a more detailed examination of the affected area, officials reduced the area devastated by flames by roughly 1,800 hectares (4,400 acres) from the initial 12,000 hectares (29,630 acres) reported.

Crews have controlled about 4 percent of the wildfire's perimeter, officials said.

The intensity and swift expansion of the fire led to the closing of several segments of major roads in the region, including Highway 138 and I-15, connecting Southern California with Las Vegas.