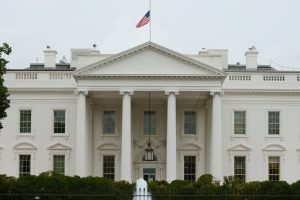 Washington, Aug 25 (EFE).- More than a dozen top White House officials met on Thursday with representatives of the Donald Trump and Hillary Clinton campaigns to "ensure a smooth transition to the next administration," which will take office on Jan. 20, 2017.
This is the first time that the Barack Obama government has held a meeting with members of both campaigns to discuss the transfer of power that will take place after the November presidential election, White House Deputy Press Secretary Jennifer Friedman told EFE.
The meeting was chaired by Obama's Cabinet chief, Denis McDonough, and was attended by three representatives from each of the presidential campaigns, Friedman said.
Representing Clinton were former Interior Secretary Ken Salazar, the head of the Democratic candidate's transition team; and two other top campaign advisers, Ed Meier and Ann O'Leary.
Trump's campaign was represented by the magnate's transition team chief, New Jersey Gov. Chris Christie; the executive director of that team, Rich Bagger; and the head of presidential appointments for the campaign, Bill Hagerty, according to the White House.
The peaceful transfer of power from one administration to another is a pillar of U.S. democracy and the Obama administration is committed to establishing and executing a transition plan that minimizes obstacles and maintains continuity, said Friedman in an e-mail sent to EFE.
Among the 14 White House officials who attended the gathering were National Intelligence Director James Clapper; Obama's national security adviser, Susan Rice; the adviser to the president on fighting terrorism, Lisa Monaco, and Obama's legal counsel, Neil Eggleston.
Discussed at the meeting were the "administration's transition activities to date, including an overview of agency planning efforts, … transition team support, emergency preparedness, personnel onboarding processes and upcoming milestones," Friedman said.
This is the second meeting of the White House Transition Coordinating Council created by Obama in May, after an initial preparatory meeting on June 9, but it is "the first time" that representatives of "both campaigns" have been on hand, she added.