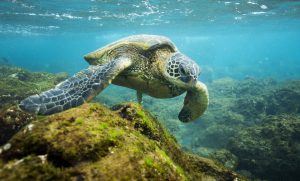 Washington, Aug 26 (EFE).- U.S. President Barack Obama created Friday the world's largest marine protected area by expanding the existing Papahanaumokuakea National Monument in the Hawaiian archipelago.
The protected area on the northwest side of the archipelago now covers more than 1.5 sq. kilometers (580,000 sq. miles) of land and sea, double the size of the state of Texas.
The natural monument's unique ecosystem is home to some 7,000 marine and terrestrial species including endangered turtles and seals as well as black coral that can live more than 4,500 years.
The area also has "great cultural significance to the Native Hawaiian community and a connection to early Polynesian culture worthy of protection and understanding," Obama said.
The White House noted that the expansion of the maritime monument will serve to combat some effects of climate change like "ocean acidification" and "warming," and will create a "natural laboratory" that will allow scientists to study their impact on fragile ecosystems.
Banned from the protected area will be the exploitation of any and all resources, whether through commercial fishing or the mining of minerals, though native populations may continue fishing with special permits.
The location also has historic relevance – it was the scene of the Battle of Midway, one of the key naval battles of World War II and whose sunken ships and downed aircraft still lie at the bottom of the sea.
Obama, who was born in Hawaii and spent part of his childhood and adolescence on the archipelago, will visit the Papahanaumokuakea National Monument next Thursday to speak about "how the threat of climate change makes protecting our public lands and waters more important than ever," according to the White House.
During his almost eight years in the White House, Obama has protected more square kilometers (square miles) of land and sea than any other president in the history of the United States.