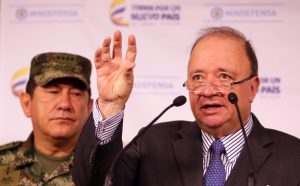 Bogota, Aug 27 (EFE).- The signing ceremony for the peace deal that Colombia's government and the Revolutionary Armed Forces of Colombia, or FARC, guerrilla group finalized this week will take place between Sept. 20-26, Defense Minister Luis Carlos Villegas said Saturday.

He made the announcement to reporters after a meeting with armed forces commanders.

"As soon as we have the formal date for the signing, that will be 'D-Day,' which will be between Sept. 20 and 26 depending on the schedules of the dignitaries who are to be present," Villegas said.

The day after the accord is signed will mark the start of a 180-day period (D-Day+180) for the leaving aside of the FARC's weapons, which are to be turned in to a United Nations mission.

The weapons will initially be stored in containers and then later melted down to make three peace monuments – one in Colombia and two others at the U.N. headquarters in New York and in Cuba, which hosted the three and a half years of formal peace talks that concluded on Wednesday with the definitive accord.

The different sections of the agreement have already been signed by the government's chief negotiator, Humberto de la Calle, and his FARC counterpart Ivan Marquez, but it still must be inked by Colombian President Juan Manuel Santos and top rebel leader FARC chief Rodrigo Londoño, better known by the nom de guerre Timochenko.

Villegas did not indicate the venue for the final signing ceremony but said numerous dignitaries from around the world would attend, adding that he was confident a definitive date would be announced next week.

Based on the date range provided by Villegas, the deal could be signed on the International Day of Peace, which is observed annually on Sept. 21 by all U.N. members states.

Santos, who was on hand Saturday for the opening of the four-day "Extraordinary Jubilee of Mercy on the American Continent" event in Bogota, a gathering attended by more than 100 Catholic bishops and cardinals, said on June 23 that the peace deal would be signed in Colombia.

But in a recent interview with CNN en Español, he indicated the signing ceremony could alternatively be held in Cuba or at the United Nations.
During the gathering in the Cuban capital, where a video message from Pope Francis was played on a screen, Santos recalled that the pontiff earlier warned in a message to Colombia that "we can't allow another failure on this path to peace and reconciliation."

Before the signing ceremony, the accord hammered out in Havana must be approved at a FARC congress that will be held between Sept. 13-19 in the jungles of southern Colombia, a guerrilla spokesman confirmed to EFE on Saturday.

The following step will be an Oct. 2 plebiscite in which Colombians will go to the polls to decide whether or not to approve the peace deal. EFE