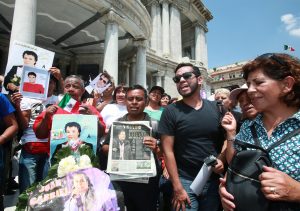 Mexico City, Aug 30 (EFE).- The remains of iconic Mexican singer Juan Gabriel have been cremated, his family informed Mexico's National Fine Arts Institute on Tuesday.
The family advised institute director Maria Cristina Garcia Cepeda that the singer's ashes remain in Santa Monica, California, where Gabriel died on Sunday, institute spokesman Roberto Perea told EFE.
Gabriel's family is expected to decide within the next 24 hours whether to accept the institute's offer to hold a memorial for the late superstar, Perea said.
"We're ready. It would be something similar to what was done for (Gabriel) Garcia Marquez," the spokesman said, referring to the ceremony the institute hosted for the Colombian Nobel laureate following his 2014 death in Mexico City, where he lived for more than 30 years.
News of Gabriel's cremation came just hours after the singer's publicist said that the family needed more time to grieve in private before deciding on funeral arrangements.
Gabriel "would not have wanted his funeral to become a circus," Silvia Urquidi told Imagen Radio.
The singer's four children and his former wife, Laura Salas, "have not yet assimilated their grief" and want to spend time alone with Gabriel's remains, Urquidi said.
Juan Gabriel, whose real name was Alberto Aguilera Valadez, died of a heart attack during a concert tour of the United States. He was 66.
Several Mexican cities have been vying to host the singer's memorial service.
The future superstar was born in Paracuaro, Michoacan state, but was only 4 years old when his family moved to Ciudad Juarez, just across the border from El Paso, Texas.
It was in the border city that Gabriel began his musical career, becoming known as the "Divo of Juarez," and officials there say they want to honor the singer-songwriter.
The capital of Michoacan, Morelia, has also offered to host the memorial, while authorities and residents in Paracuaro had hoped to see Gabriel buried next to his mother.