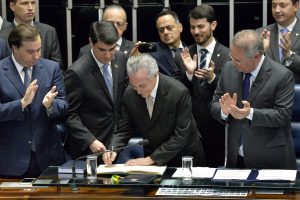 Brasilia, Sep 1 (efe_epa).- The new Brazilian government on Wednesday consulted with its ambassador in Caracas after Venezuela's decision to freeze relations in protest of what it called a "parliamentary coup d'etat" in Brazil.
Meanwhile, the new government asked for respect from other "Bolivarian" countries that also questioned its political transition.
Following the Brazilian Senate's vote on Wednesday to impeach Dilma Rousseff, found guilty of committing a "crime of responsibility", Venezuela, Bolivia, Ecuador and Cuba denounced the decision and called it a "coup against democracy."
The harshest reaction, however, was that of Venezuela, which decided to permanently withdraw its ambassador to Brazil and freeze political and diplomatic relations with the new government.
Brazil's Ministry of Foreign Affairs said in a statement that it had "decided to call its ambassador to Caracas for consultations" following Venezuela's decision.
In the note to other "Bolivarian" countries, the Brazilian government asks them to "remain calm" and to respect the principles and values that rule over the relations between Latin American nations.
Wednesday's 61-20 vote to strip Rousseff of her presidency automatically confirmed Michel Temer, who took office as interim president in May when the Senate decided to suspend Rousseff, as the new president of Brazil.