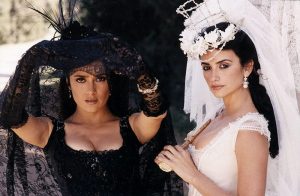 Mexico City, Sep 1 (EFE).- Mexico's Salma Hayek will turn 50 on Friday with a firmly cemented status as a Hispanic icon thanks to her facets as an actress, producer and entrepreneur, although she is still remembered on her homeland's Gulf coast as a warm-hearted but mischievous girl who enjoyed skipping class to eat tacos.
"If she could sneak away (from school) for a cocktail or some tacos, she'd do it," Mercedes Ortega, an employee at the Margarita Olivo Lara school where Hayek attended both elementary and high school, told EFE.
Ortega, a former teacher who at age 75 now has an administrative position at that same educational establishment, remembers Hayek as a happy girl who was a good dancer and an excellent gymnast, as well as being a caring classmate.
Hayek, a native of Coatzacoalcos, Veracruz state, comes from an affluent family. Her father is a prominent oil executive of Lebanese descent, but the young girl was naturally inclined toward the arts like her Spanish mother, a former opera singer.
After returning from a stint at a school in the U.S. state of Louisiana and completing her studies at Margarita Olivo Lara, her rebellious streak surfaced once again when she abandoned her university studies to focus exclusively on acting.
She first made a splash on television with her appearance in the 1989 telenovela "Teresa" and then in Mexican film with her starring role in the critically acclaimed 1995 picture "El callejon de los milagros" (Midaq Alley).
That latter film was a springboard to even greater success in Hollywood with "Desperado," a 1995 movie in which Hayek played the love interest of Antonio Banderas' character, and "From Dusk Till Dawn," a 1996 black comedy film directed by Robert Rodriguez and written by Quentin Tarantino in which she leveraged her curvy figure to land the part of the sexy, snake-dancing vampire Santanico Pandemonium.
The actress later showed her versatility with, among many other projects, her Oscar-nominated portrayal of Mexican painter Frida Kahlo in the 2002 biopic "Frida"; and her role in "La chispa de la vida" (As Luck Would Have It), a 2011 Spanish drama film for which she picked up a Goya Award best-actress nomination.
Hayek also has forged a path as a producer, most notably of the American comedy-drama television series "Ugly Betty" and the 2014 animated film "The Prophet," adapted from Kahlil Gibran's book.
The celebrity also launched her own line of beauty products called Nuance in 2011.
"She was like most of the others. She wasn't a lazy girl. She did what was required, but I don't remember any exceptional report card," Ortega said, though adding that it was a source of pride for the school and for Coatzacoalcos that Hayek has always remembered her origins.