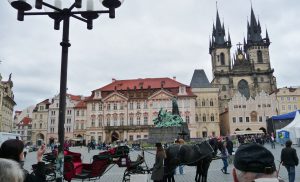 Story and photos by Bob Schulman
Have you ever wondered where Bohemia is? Was there really a whole country full of people living laid-back, anything-goes lifestyles? It was the model for spots like New York's Greenwich Village and Paris' Left Bank, wasn't it?
It's true… there really was a Bohemia. Up to the end of World War I, it was part of the Austro-Hungarian Empire in central Europe. In 1918, Bohemia morphed into the western part of the newly formed country of Czechoslovakia (which in 1993 was split into The Czech Republic and Slovakia).
But there's no record of lots of non-conformists living there. The term "Bohemian lifestyle" rubbed off on art colonies and hippie enclaves around Europe from the tag given to rootless bands of Gypsies who supposedly came from Bohemia.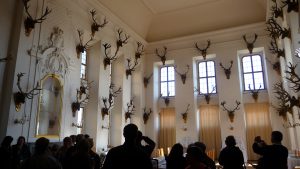 This brings us to Prague, the capital of the old Bohemia and also of the modern-day Czech Republic (www.czechtourism.com). Ironically, what was the epicenter of old-time Bohemia – known more for its straight-laced kings than for zonked-out hippies – today is one of the hippest places in Europe. Some even call its lifestyle, "Bohemian." Or more accurately, "Bohemian chic."
Lining centuries-old cobbled lanes in the shadow of a 265-foot-high Gothic church, shops with names like Prada, Louis Vuitton, Hermes and Cartier are packed with customers from around the world. Along other lanes, store windows sparkle with the glow of polished brown amber necklaces, bracelets and pendants from countries edging the Black Sea.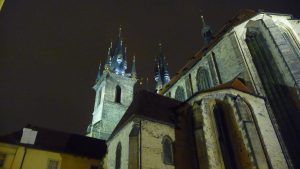 The city's big draw for well-heeled visitors and backpackers alike is its old-world charm, from its medieval palaces to its ancient churches, gates, courtyards and bridges. Some have soaring towers that light up at night like a scene out of a Harry Potter fantasy.
Mix that ambiance with relatively modest (but not cheap) hotel and dining prices, stir in squeaky clean, virtually beggar-free streets, and add a dash of top-name operas and rock concerts, and it's no wonder Prague rates as one of Europe's most-visited cities.
Prague's historic attractions are clustered mainly in a part of the city called Old Town where buildings date back as far as the 13th century. How did they survive World War II? Because Prague – with little industrial or military value – was one of the few large European cities spared from bombing raids.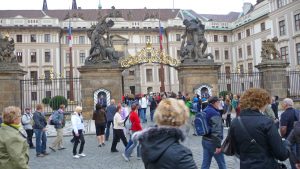 Next to Old Town in this city of over a million residents is New Town, which it was when Bohemian king Charles IV founded it in 1348 – shortly after he picked up the additional job of king of the Holy Roman Empire. Remnants of Charles' latter post can be seen in churches all over New Town, now mixed with newer buildings (circa 1818) such as the National Museum and the National Theater.
After stops at Old Town and New Town, tours of the area cross the Vltava River on the London Bridge-like Charles Bridge.
The showstopper on the other side of the bridge is the enormous Prague Castle, said to be the largest inhabited castle in the world. Its sprawling walls housed the thrones and courts of Bohemian kings, Holy Roman emperors and other miscellaneous monarchs, and more recently the governing seats of Czech presidents.
Displayed in the castle's cathedral are the bones of one hand of St. Vitus, who was martyred in 303 during the Roman persecution of Christians.