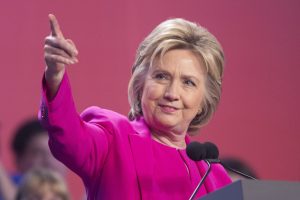 Washington, Sep 5 (EFE).- Democratic presidential nominee Hillary Clinton on Monday rejected the invitation to visit Mexico extended by that country's president, Enrique Peña Nieto, an invitation he had also extended to Republican presidential nominee Donald Trump, who accepted.
In an interview with ABC, journalist David Muir asked the former secretary of state if she planned to accept Peña Nieto's invitation and travel to the U.S. southern neighbor before the Nov. 8 presidential election.
"No," answered Clinton, who said that the intended to focus on policies to create jobs in the United States and to do what she must "to create jobs here at home, … to make sure Americans have the best possible opportunities in the future."
Trump met last Wednesday in Mexico with Peña Nieto and hours later delivered a campaign speech in Arizona in which he reiterated his hard line against immigration and insisted that he will build a wall along the U.S.-Mexico border to keep illegal migrants out, get Mexico to pay for the barrier and deport all undocumented foreigners.
In Mexico City, at a joint press conference, Trump had said he has great respect for Mexican-Americans.
In her most definitive statement on the matter so far, Clinton told ABC that she felt Trump had created a "diplomatic incident" with his Mexican trip.
"He came out saying one thing and the Mexican president contradicted him almost immediately," said Clinton, referring to Trump's assertion that payment for the border wall was not discussed with Peña Nieto.
"He didn't know how to even communicate effectively with a head of state. And I think that's a pretty clear outcome from that trip," Clinton added.
Peña Nieto has said several times since then that he emphatically told the mogul that Mexico will not pay for any wall.
The former secretary of state met most recently with Peña Nieto in Mexico in 2014.