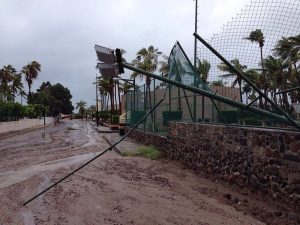 Mexico City, Sep 6 (EFE).- Hurricane Newton, a Category 1 storm, made landfall Tuesday near the Datilari ranch in the northwestern Mexican state of Baja California Sur, but no injuries have been reported, emergency management officials said.
No one has been reported killed or missing in the storm, national emergency management office chief Luis Felipe Puente said in a Twitter post.
Hurricane Newton's eye came ashore between 10:30 a.m. and 11:00 a.m. (1530 and 1600 GMT) at the ranch near the town of Santa Fe, the national weather service said.
The hurricane is moving northwest at 25 kph (about 16 mph), packing sustained winds of 130 kph (81 mph), with gusts of 155 kph (96 mph).
Newton made landfall about 10 kilometers (6.2 miles) south-southwest of Santa Fe and 80 kilometers (50 miles) west of La Paz, the capital of Baja California Sur.
The storm will affect Baja California Sur, Baja California Norte, Sonora, Sinaloa, Chihuahua and Nayarit, dumping torrential rains in some areas, the weather service said.
A hurricane warning is in effect on the southern Baja California Peninsula from Cabo San Lazaro to Mulege, both in Baja California Sur, and from Guaymas to Bahia Kino in Sonora state.
A tropical storm warning is in effect from north of Cabo San Lazaro to Punta Abreojos in Baja California Sur.
Newton is expected to weaken into a tropical storm later in the day as it passes over Baja California Sur.