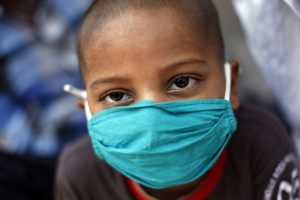 Washington, Sep 8 (efe_epa).- A study in mice by the University of Texas that combined two inhibitor drugs for the treatment of chronic myeloid leukemia (CML) may be able to cure the disease completely and also lower treatment costs notably.
CML is a type of cancer that starts in certain blood-forming cells of the bone marrow and affects close to 20 percent of patients diagnosed with leukemia.
The existing treatment for CML cannot completely remove all malignant cancer cells and is prohibitively expensive.
The study, by the University of Texas MD Anderson Cancer Center in Houston, was published Wednesday in the Science Translational Medicine journal.
According to the researchers, combining BCR-ABL, a tyrosine-kinase inhibitor, along with another inhibitor, venetoclax (BCL-2), has shown an "encouraging response" in mice and rates of cure for both the chronic and terminal phases of the illness.
"BCR-ABL inhibitors are the current standard-of-care treatment allowing most patients to remain in remission, but they do not entirely eradicate the cancer cells. In some patients, the cancer returns in a form that is untreatable," the study says.
As the cancer cells are not eradicated completely, patients have to continue being on BCR-ABL for the rest of their lives to prevent a relapse.
The current treatment costs $100,000 annually in the United States, and is unaffordable for most patients.
"Our results demonstrate that this study in mice employing combined blockade of BCL-2 and BCR-ABL has the potential for curing CML and significantly improving outcomes for patients," said Prof. Michael Andreeff, one of the authors of the study.
Long term treatment with BCR-ABL "comes at a high cost, both in terms of side effects and financially" so the combination with BCL-2 could be a solution for patients, said Bing Carter, co-author of the study.