March 14, 1990
By Yolanda Reynolds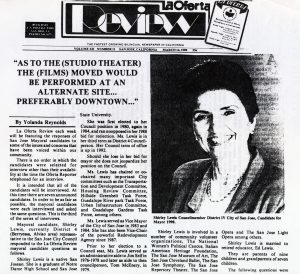 La Oferta Review each week will be featuring the responses of San Jose Mayoral candidates to some of the issues and concerns that have been voiced within our community.
There is no order in which the candidates were selected for interview other than their availability at the time the Oferta Reporter telephone for an interview.
It is intended that all of the candidates will be interviewed. At this time there are seven announced candidates. In order to be fair as possible, the mayoral candidates were each interviewed and asked the same questions. This is the third of the series of interviews.
Mayoral candidate, Shirley Lewis, currently District 4 (Berryessa, Alviso area) representative to the San Jose City Council responded to the La Oferta Review mayoral candidate questions as follows.
Shirley Lewis is a native San Josean. She is graduated of Notre Dame High School and San Jose State University.
She was first elected to her Council position in 1980, again in 1984, and ran unopposed in her 1988 bid for reelection. Ms. Lewis is in her third term as District 4 Council person. Her Council term of office is up in 1992.
Should she loose in her bid for mayor she does not jeopardize her position on the Council.
Ms. Lewis has chaired or co-chaired many important City Committees such as the Transportation and Development Committee, Housing Review Committee, Hillside Greenbelt Task Force, Guadalupe River Park Task Force, Urban Infrastructure Committee and Guadalupe Gardens Task Force, among others.
Ms. Lewis served as Vice Mayor of the City of San Jose in 1983 and 1984. She has also been Vice-Chair of the powerful Redevelopment Agency since 1987.
Prior to her election to a Council seat, Ms. Lewis served as an administrative aide to Jim Self in 1976-1978 and later as aide to then councilperson, Tom McEnery, in 1979Shirrley Lewis is involved in a number of community volunteer organizations, The National Women's Political Caucus, Italian American Heritage Foundation, The San Jose Museum of Art, The San Jose Cleveland Ballet, The San Jose Symphony, The San Jose Repertory Theater, The San Jose Opera and The San Jose Light Opera among others.
Shirley Lewis is married to retired educator, Ed Lewis.
They are parents of nine children and grandparents of seven children.
The following questions were asked by La Oferta Review, to each candidate. Ms. Lewis' answers are reported here:
1.- There is a perception within the Hispanic community that there is an unequal distribution of city services in the community. Example – District 5 is one of the districts with the fewest number of neighborhood parks; Alviso in District 4, a community with a large percentage of Hispanic families not only lacks city services but is very concerned about a dump that has for years been allowed to function without permits or proper zoning. The list goes on – How will you address these problems – in your response be specific to the examples mentioned.
S.L. – First take the issue of services throughout the community… in one area – parks – the distribution has been unequal. That's why I led the fight to have the distribution of Construction and Conveyance Tax (C&C Tax) redistributed throughout the city in a more equitable way.
I represent District 4, a district that has a large portion of money (C&C Tax) coming into it, where we have been able to develop our parks extensively while other Districts, such as District 5, have not had access to that kind of money.
Because of my efforts in leading the changes in the distribution of (the) Construction and Conveyance Tax revenues – that money now will be distributed in a more equitable way – so that we will have the same quality of parks throughout the City.
I think (this) is the only fair way. It's (unequal distribution) an area that infuriated me – that wasn't fair.
As to the issue of Alviso – Alviso is a very unique community and came to the City of San Jose with some unique problems when it was annexed in 1968.
Ever since I was elected to this Council – since 1981 – I have worked to bring a more equal distribution of services to that community. As well as to address many of the unique problems that exist out there.
The issue of the dump that existed in the area – was a very difficult one. Our focus was not just to get the dumping stopped but to get us (the City) in a legal position where we could get the dumping stopped and get it cleaned up once and for all – and also, to get us to the point that we would eventually have a date when it would be closed, and, it will be closed properly.
Our (the City's) focus has always been to improve the standard in an area (Alviso) that for many years has been underserved.
1.- The educational achievement of all youth has been falling, particularly for Hispanic youth. What do you propose to do to help with this situation? How do you envision the city's role in education?
S.L. – I think the City's role is two-fold when it comes to education:
One, what… we do as a city that creates an environment that supports educational facilities – an environment that is drug free and crime free. An environment in which people can live and work so that they then can focus on their children.
Two, I see the City's role as providing the kind of service and programs that enhance educational opportunities – support of the Children's Discovery Museum, The Technology Center, the Museum, the Art Education Week, the joyful occasions that bring families together – like Christmas in The Park – recreation and library programs.
All of these are facilities and programs that facilitate and broaden the opportunities for children and adults in the area of education.
3.- Affordable housing is an issue. How do you plan to alleviate the scarcity of such housing? Do you support a landbanking program? Redevelopment Law requires that no less than 20 percent of its money be spent on housing. Do you support that 50 percent of the Redevelopment monies be spent on housing? Why? Why not?
S.L. – First of all, I believe that landbanking is a good way to prepare us to provide some of the housing.
I am committed to the existing policy that 20 percent of the money goes to low and very low income housing. Beyond that, I think the city needs to develop a proactive strategy for the development of housing within the urban service area.
(It needs) a housing strategy that will support the existing service not dilute them – a housing strategy that will support the existing job base and support existing transportation facilities.
You CANNOT provide affordable housing by spreading out on the hills and throughout Coyote Valley. You can only provide affordable housing if it is accessible to people – where they live – where they can live, work, and get the services they need.
I Chair the Housing Initiative Task Force, which is going through a process of identifying opportunities for additional housing within the urban service area. That strategy that we are proposing is one that would lay out a blue print for providing housing over the next ten years. A blueprint that will include and identify what the needs actually are and then matching the General Plan to the needs. Right now the General Plan says you can build 50,000 housing units but we have no idea what kind of units those would produce and whether or not those would match the needs.
I intend to come out with a blue print that will tell us that and if we need to make changes then we'll make them.
4.- Hispanics feel that there has been an unequal distribution of arts funding and a distinct lack of recognition of the Hispanic/Indian contribution to San Jose's History. Example – erection of a statue to Thomas Fallon, a man who many see portrayed as a conqueror and therefore an insult to the Hispanic community, and now – there is the "official" Hispanic presence in downtown San Jose – and a growing dissatisfaction with that absence.
How will you address these concerns? Please respond in general to the mentioned perception and to the specific examples that have caused great concern and controversy. Finally, would you support a major Hispanic oriented cultural center with support given it not unlike that given the Opera, Symphony, Museum, etc.
S.L. – I think it's ironic, that just when the City is moving forward to address some of these very issues – you're seeing that the actions we (the City) are taking are working against it (addressing those issues).
For years we've (the City) had a problem in this community – overall in a lack of performing facilities – not just for the Hispanic community, but for all the multi-cultural groups as well as for many other smaller groups.
What we're moving for – is an attempt to expand those facilities.
The particular focus on the Studio Theater is not only to provide a home for the San Jose Repertory Theater. There have also been discussions to bring "The Teatro Campesino" into that same theater.
My intent is that we should also have live Hispanic theater. That (El Teatro Campesino) is one of the finest performing theaters in the nation… they are interested in performing in downtown San Jose.
This (moving the Repertory Theater) would also open space at the Montgomery Theater for some of the other multi cultural groups to perform.
As to the film (Spanish language) – they would be performed at an alternate site – most preferably downtown.
There are alternatives for the (movie) theater that wouldn't work for a performing theater group. The (Studio) Theater was one of the few that would work for that.
Again, at a time when we're moving ahead with the Cultural Center, moving ahead with other works that are representative of the Hispanic community – I really do believe we're talking about past history not the present.
I think the concept of a Hispanic Cultural Center is an exciting one and one that I would hope there would be a lot of enthusiasm for – and together we could pursue it.
5.- There is a perception that Hispanic businesses are not desired in downtown and in fact have been deliberately displaced. A downtown Business Association letter to the City's Downtown Working Review Committee (DCRC) states:
"Retail surrounding the San Antonio blocks, particularly south of San Carlos and north of San Fernando Streets, is in a state of transition. The diversity of retail in these areas adds to the character of downtown. However many of the off-price and ethnic stores do not develop sound products and pricing strategies that enable them to effectively complement new retail or maximize sales per square foot of retail space."
How do you react to the statement made in that memo? What measures will you take to promote downtown Hispanic owned and market oriental businesses?
S.L. – My focus is – if the Downtown is to be effective – it needs to be diverse – it needs to have a broad base of opportunities – to draw a broad base of people from the community.
At the same time that the downtown is evolving – a transition is going on and – there IS going to be a change of some of the businesses.
I don't think there's any (attempt to rid one kind of business over another.
Actually I believe there is a greater diversity of ethnic businesses (downtown) than there ever was… there are more multi-cultural owned businesses than there was ever before.
You are going to see a lot more evolution of the neighborhood shopping areas – (which) will be more ethnic than ever – which will also contribute to the whole downtown shopping experience.
6.- Redevelopment has demolished much housing in downtown San Jose, for example: the Guadalupe Auzerais neighborhood for the Convention Center, Children's Discovery Museum, etc., and more recently for the arena and the Guadalupe River Park. Many, if not the majority, of those displaced were Hispanic families. Some say that Redevelopment is really Hispanic removal. Currently no Redevelopment 20 percent housing dollars will be spent in the Central Incentive Zone that covers a large part of Central San Jose and includes the areas of displaced Hispanic housing. Do you consider this policy racist? Why? Why not?
S.L. – One, I don't think there has been any focus on displacing Hispanic Housing. I think that in certain areas there has been a displacement of some low cost housing. Some of that has been Hispanic occupied and some of that has been other.
All of those projects (Redevelopment) did not displace housing but – some did – and the (City's) effort there has been to replace (that) by focusing on the 20 percent low cost housing.
I think unit for unit, we've (the City) built more housing than we've displaced. Also, (the City's) real focus is to identify areas that need as little housing removal as possible – that was a major factor in selecting the arena site. There (the arena site) most of the displacement was in small businesses.
I think that you will find that (the City) will continue to bring affordable housing (into) the downtown core as well as to the rest of the City.