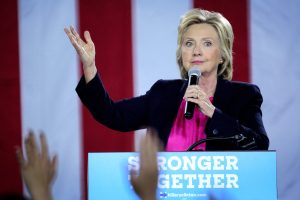 Washington, Sep 12 (EFE).- Democratic presidential nominee Hillary Clinton cancelled a campaign fundraising trip to California she had been scheduled to make on Monday and Tuesday after being diagnosed with pneumonia, according to her campaign.

Clinton's agenda had included fundraising and campaign events in San Francisco and Los Angeles, as well as a taped appearance on "Ellen," the talk show hosted by actress and comedienne Ellen DeGeneres.

The candidate had been diagnosed with pneumonia on Friday, her physician, Dr. Lisa Bardack, said on Sunday after the former secretary of state fell ill while participating in the 15th anniversary commemoration ceremony of the 9/11 terrorist attacks at Ground Zero in New York.

According to Bardack, Clinton has been placed on antibiotics and has been advised to rest.

On Sunday, Clinton went to the World Trade Center gardens in New York for the ceremony at which the names of the almost 3,000 people who died on Sept. 11, 2001, were read aloud and which her Republican rival, Donald Trump, also attended, along with local authorities.

The former first lady was standing in hot weather for the ceremony when she began to feel ill from the effects of the heat, according to her campaign, and she left the event to go to her daughter Chelsea's apartment in New York.

Her doctor said in a statement that Clinton had become "overheated and dehydrated" at the ceremony.

A video filmed by one of the people attending the event and posted on the social networks shows Clinton waiting for her car supported by one of her assistants when she begins to wobble and a second person supports her other arm to prevent her from falling as the vehicle appears and she gets in and is taken away.

The 68-year-old Clinton left her daughter's apartment shortly afterwards and, in brief remarks to reporters who were waiting at the door, she confirmed that she felt "much better."

After that, the candidate went to her home in Chappaqua, in New York state, where she has been ever since.