Free talks Sept. 22 and Oct. 27, with closing reception for 2016 series on Oct 29th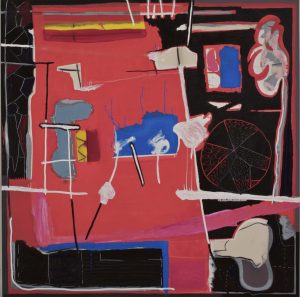 San Francisco, CA – The Mexican Museum, the premier museum of Mexican, Chicano and Latin American art, culture and heritage, announces its final two talks for the 2016 Artists in Conversation series. On Thursday, September 22nd at 7 p.m., Artists in Conversation: Cinco y Cinco/Five and Five will feature a talk with artist Geri Montano. On Thursday, October 27th at 7 p.m., Artists in Conversation: Cinco y Cinco/Five and Five concludes with a talk with artist Bernardo Roman Palau. The Closing Reception for the 2016 Artists in Conversation series will take place on Saturday, October 29th from 5 p.m. to 7 p.m. All three events are free, open to the public, and take place at The Mexican Museum, Fort Mason Center, 2 Marina Blvd., Bldg. D, in San Francisco.
Artists in Conversation: Cinco y Cinco/Five and Five will be hosted by guest curator Anthony Torres and presented in conjunction with the contemporary Latino Art exhibition running through November 6, 2016. Entitled "Cinco y Cinco/Five and Five," the exhibition includes works by series' guests Geri Montano and Bernardo Roman Palau, as well as artists Victor Cartagena, Rolando Castellon, Adriana Castro, Ana de la Cueva, Lewis deSoto, Juan Jota Leaños, Gera Lozano, and Gustavo Ramos Rivera.
"Cinco y Cinco/Five and Five" is unique to most art exhibits in that five of the Latino artists were invited to participate due to having attained national and international acclaim for their work. These five artists then nominated five additional artists as a means of extending opportunities to artists they deem worthy of greater public recognition. The result is a unique exhibition that spotlights contemporary "Latino Art" as a rich, ambiguous area of inquiry – where viewers are asked to formulate an expanded redefinition of the term "American Art," where that concept represents more of an interconnected global conversation aimed at greater cross-cultural communication.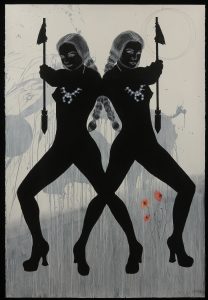 About Geri Montano: Born in Colorado, Montano is a multiracial contemporary artist who emphasizes her Native American heritage: Dineh (Navajo) from her father's lineage and French, Spanish, and Comanche from her mother's side. She received her formal art education from the San Francisco Art Institute, graduating with a BFA in interdisciplinary arts. Montano's work is inspired by personal experiences relating to cultural or feminist themes. Her work juxtaposes aesthetic qualities with subversive imagery, impressing emotional and powerful ideas on the viewer and never shying away from controversial or taboo subjects. Her work has been exhibited at Northern California galleries such as Galeria de la Raza in San Francisco, MACLA San Jose, San Francisco Arts Commission Gallery, Humboldt State University Goudi'ni Gallery, ASC Projects Gallery, Luggage Store Gallery, and University of San Francisco Thacher Gallery.
About Bernardo Roman Palau: Palau was born in Mexico City, Mexico, and received his formal art training at the Escuela Nacional de Pintura, Escultura y Grabado, "La Esmeralda," in Mexico City and the Istituto per l'Arte e il Restauro in Florence, Italy. Although Palau's precise trompe-l'oeil technique is firmly rooted in tradition, his subject matter is both current and universal. The word "enigmatic" is probably most descriptive of the content. His body of work embraces both loss and regeneration, and in each painting, deformity and beauty are present in equal measure. The works are about hope, strength, resilience, and gentleness. Palau's work has been exhibited at Bond Latin Gallery in San Francisco, Pro Arts Gallery in Oakland, Tew Galleries in Atlanta, GA, Galeria Del Sol in Miami, FL, and Galeria La Esmeralda, Centro Nacional de las Artes in Mexico City.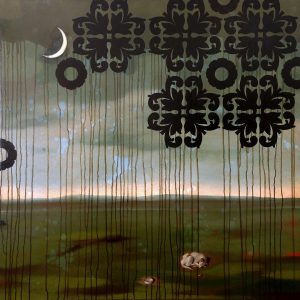 About The Mexican Museum: Founded by the well-known San Francisco artist Peter Rodriguez in 1975 in the heart of the Mission District, The Mexican Museum is located at the Fort Mason Center. It is the realization of his vision to present the aesthetic expression of the Mexican and Mexican American people. Today, the museum's vision has expanded to include the full scope of the Mexican, Chicano, and Latino experience – including the arts, history, and heritage of their respective cultures.
In 2012, The Mexican Museum became an Affiliate of the Smithsonian Institution, the world's largest museum and research complex. The Museum joins over 200 organizations in 45 states, Puerto Rico and Panama that are in association with the Smithsonian. The Mexican Museum currently has a permanent collection of more than 16,500 objects reflecting Pre-Hispanic, Colonial, Popular, Modern and Contemporary Mexican, Chicano and Latin American art.
The Mexican Museum, open Thursday – Sunday from noon to 4 p.m., is located at the Fort Mason Center, Building D, Marina Boulevard and Buchanan Street, in San Francisco. Admission is FREE. The Museum offers a wide variety of programs, including Family Sundays, exhibitions, special events, lectures, and public programming throughout the San Francisco Bay Area. For more information, please visit: http://www.mexicanmuseum.org or call (415) 202-9700.
The Mexican Museum has begun construction of its permanent home in the heart of the Yerba Buena Gardens Art District, which is expected to open in 2019. People are encouraged to support The Mexican Museum by becoming new members, or by joining the Builder's Society online or by mailing a check to: The Mexican Museum, Fort Mason Center, 2 Marina Boulevard, Building D, San Francisco, CA 94123. For more information on the Builder's Society, please contact Edgar De Sola at (415) 202-9700 ext. 225.