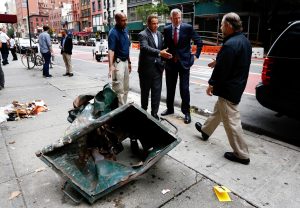 New York, USA, Sept 18 (efe_epa).- Authorities in New York are investigating the Saturday evening explosion as a possible "act of terrorism," although they have not found evidence linking the incident to international terror groups.
"At this time there's no evidence of an international terrorism connection with this incident, but a bomb exploding in New York is obviously an act of terrorism," New York Governor Andrew Cuomo said in a press conference after the bombing.
Police have established a security perimeter on 23rd Street, between Fifth and Sixth Avenues, in midtown Manhattan, where no vehicle traffic or pedestrians access is allowed, while they are continuing to gather evidence at the scene of the explosion.
The office of NY city mayor, Bill de Blasio, has not provided specific data on the number of people who are affected by the explosion in 23rd Street and the discovery of another, unexploded, device on 27th Street.
Authorities added Sunday that no suspects have yet been identified but several media have published that police are investigating an online manifesto written by a person claiming responsibility for the act.
The New York Post reported Sunday the transcript of a 911 call following the explosion in the Chelsea neighborhood threatening more blasts, the anonymous male voice allegedly said: "there will be more."
The blast occurred as New York prepares to welcome hundreds of international delegations for the UN General Assembly (UNGA) summit on refugees and migrants at the UN headquarters in New York.
The explosive device, which had been planted inside a dumpster, exploded around 8.30pm local time (00.30am GMT Sunday) in the Chelsea area of Manhattan. 29 people were reported injured but all were later discharged from hospital.
New York remains "on high alert" and local agents, state and federal authorities are deployed to ensure security in the city, according to authorities.