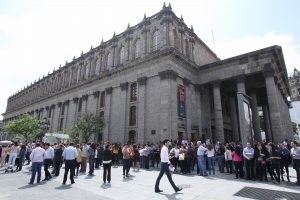 Mexico City, Sep 19 (EFE).- At least seven million Mexicans on Monday participated in a drill carried out to commemorate the 31st anniversary of the 1985 earthquake that killed at least 20,000 people in this capital.

The drill began at 11 a.m. with the sounding – for 50 seconds – of the earthquake alarm through 8,200 loudspeakers installed on streets, in schools and public buildings to warn the public of a hypothetical magnitude-8.1 temblor on the Richter Scale.

Some 17,000 buildings were evacuated in the quake drill, and 18,000 police officers and 2,500 support vehicles took part, according to figures provided by the Mexico City government.

Traffic was halted for several minutes on the city's main streets, which filled with people who evacuated buildings and public offices, according to emergency protocols.

The quake alert was activated for the first time in another drill held just a year ago, thanks to the installation of sensors on the Pacific coast that provide the public with 50 seconds to get to a safe location before the ground in the capital begins to shake.

The National Seismological Service emphasized on its Web site that the drills permit authorities to "strengthen coordination efforts … in attending to an emergency," as well as preparing the public in how to act when a temblor occurs.

Interior Secretary Miguel Angel Osorio Chong headed the official commemoration ceremony at central Zocalo Square, where the Mexican flag was flown at halfstaff at 7:19 a.m., the time of day 31 years ago when the devastating quake struck.

The Mexican Red Cross sent 12 ambulances through the city with sirens blaring and organized a volunteer honor guard in memory of the people killed in the quake, which – aside from killing thousands – destroyed some 300 buildings and caused huge material damage.

According to some civil organizations, up to 45,000 people died in the quake, although other reports have numbered the dead at between 5,000 and 30,000, with the official figure standing at 5,000 bodies actually recovered from the ruins, but not including the people who were missing in the aftermath and whose bodies were never found.