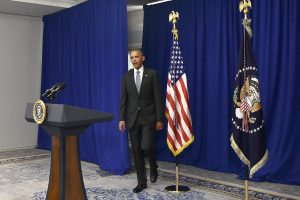 New York, Sep 19 (EFE).- U.S. President Barack Obama asked citizens Monday not to "succumb to fear" after the attacks over the past few days in New York, New Jersey and Minnesota, presumably perpetrated by jihadists.
Obama made a brief statement to the press from a hotel in New York where he is attending the annual United Nations General Assembly.
"At moments like this, I think it's important to remember what terrorists and violent extremists are trying to do. They are trying to hurt innocent people, but they also want to inspire fear in all of us," Obama said.
"We all have a role to play as citizens in making sure that we don't succumb to that fear," he said.
Obama noted that "neither individuals nor organizations like ISIL (the Islamic State) can ultimately undermine our way of life," and this is exactly the "kind of strength that is going to be absolutely critical not just in the days to come but in the years to come."
"By showing those who want to do us harm that they will never beat us" will be "the most important ingredient in us defeating those who would carry our terrorist acts against us," he said.
While Obama was speaking, U.S. authorities confirmed the detention of the suspect sought by police and the FBI for possibly detonating several explosive devices in New York and New Jersey.
He was identified as Ahmad Khan Rahami, 28, an immigrant from Afghanistan with a U.S. passport, who was captured by police after a shootout in the city of Linden, New Jersey.
New York police believe Rahami is the man who appears in videos taken by security cameras on 23rd Street in the Chelsea neighborhood of Lower Manhattan, where on Saturday a bomb exploded that wounded almost 30 people on 27th Street, and where another device was found that did not detonate.
New Jersey authorities also believe he might be linked to the bomb explosion early Saturday in the town of Seaside Park, New Jersey.
According to Obama, up to now the authorities have found no connection between what happened in New York and New Jersey and the attack at a shopping mall in Minnesota, perpetrated Saturday by a suspected jihad sympathizer who stabbed nine people.
The president said the FBI is investigating the incident in Minnesota as a "potential act of terrorism."
Though Obama did not speak of the three attacks over the past few days as being connected to international terrorism, he did say the United States will continue to lead the global coalition against the IS, the group that is "instigating a lot of people over the Internet to carry out attacks."