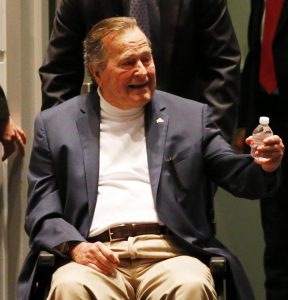 Washington, Sep 20 (EFE).- Former U.S. President George H.W. Bush is planning to vote for Democratic presidential nominee Hillary Clinton in the November election, the niece of the late President John F. Kennedy, Kathleen Kennedy Townsend, said on Tuesday.
The 92-year-old Bush, who governed from 1989-1993, has not made public his opinions about the electoral race, but his children – former President George W. Bush and former Florida Gov. Jeb Bush – have expressed their unease with Republican presidential nominee Donald Trump.
However, Townsend, the former lieutenant governor of Maryland and daughter of Robert F. Kennedy, posted on Facebook an image of the Bush patriarch shaking hands with her, along with a caption saying "The President told me he's voting for Hillary!!"
When asked about the matter by online daily Politico, Townsend said that she had met with the elder Bush in Maine and the former vice president for Republican icon Ronald Reagan had told her that he was fully aware that he was intending to back a Democrat.
The atypical and controversial campaign of the real estate magnate has spurred many heavyweights and ordinary members of the Republican Party to say they will refuse to support him in the November election.
Among those who have distanced themselves from Trump are a number of GOP congressmen or senators who are up for reelection on Nov. 8 and whose states have significant Hispanic populations, Latinos being one of the communities that the mogul has castigated and largely alienated during the course of his campaign.