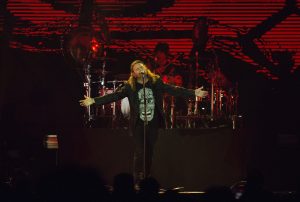 Los Angeles, Sep 26 (EFE).- Mexican pop band Mana rocked the Californian capital Sunday night at a concert at The Forum arena that combined its greatest hits with a political message encouraging Hispanics to vote in the upcoming United States presidential elections.
"We don't want racism, we don't want violence, we don't want any discrimination," shouted Mana vocalist Fher Olvera during the Los Angeles concert, part of its "The Latin Power Tour".
"This country is multicultural, made by immigrants. And whether this bastard likes it or not, we are already more than 50 million Latinos," said Olvera, alluding to Republican presidential nominee Donald Trump without naming him explicitly.
Sunday's concert was the second performance by Mana in LA, after one on Saturday, and the band will return to the city in November after touring through Chicago, New York and Houston.
Mana – formed by Olvera, Alex Gonzalez, Sergio Vallin and Juan Calleros – started the show Sunday in front of a nearly 18,000-strong crowd with a video showing the historical process of Mexico progressively losing land to the US.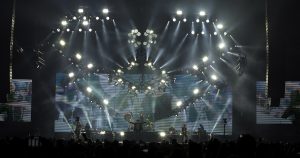 A border wall, in reference to Trump's controversial proposal, was displayed on the screen with words such as xenophobia and racism inscribed on its bricks, shortly before the image dissolved into colored flowers.
This image summed up the political motive behind Mana's tour – urging Latinos to use their right to vote and emerge as a decisive force in the US elections in November.
The group kicked off the evening with "Manda Una Señal" (Send A Signal) and "Oye Mi Amor" (Listen, My Love) in the midst huge audiovisual screens.
Other hits like "Corazon Espinado" (Pricked heart) and "Labios Compartidos" (Shared Lips) preceded "¿Donde jugaran los Niños?" (Where Will The Children Play), in reference to the environment and the planet's condition for future generations.
The concert lasted more than two and half hours and included a version of Bob Marley's "Get Up, Stand Up" which Mana used to urge Latinos to stand up for their rights.
The group ended its performance with two of the most popular songs of its career: "Rayando El Sol" (Reaching For The Sun) and "Clavado En Un Bar"(Stuck In A Bar).