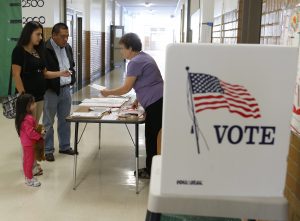 Chicago, Sep 27 (EFE).- With the U.S. presidential campaign in the home stretch, Latino organizations were mobilizing Tuesday to register thousands of voters to "avoid surprises" and demonstrate immigrants' true power at the polls next November.

"A lot of skeptics who don't take Donald Trump's extreme ideas seriously could be in for a big surprise," Sulma Arias of the Fair Immigration Reform Movement, or FIRM, told EFE in an interview.

On the occasion of National Voter Registration Day, a non-partisan drive, thousandsof volunteers went into the streets across the country to inform, encourage and mobilize the Hispanic vote, which could tip the scales in favor of Hillary Clinton, given the neck-and-neck standing currently shown by voter preference surveys.

The Web site Real Clear Politics (RCP), which prepares half the polls published in the country, notes that Democratic candidate Hillary Clinton leads her Republican rival by 2.4 percent nationwide.

FIRM coordinates the voter-registration drive in 26 states including California, where an unprecedented coalition wants the electorate to reflect the "growing diversity" of voters.

The Million Votes Project organizes Latinos, blacks, Asians and refugees from all over with the goal of registering 80,000 new voters in the space of one month, more than 450,000 by November and 1 million by 2018.

"Our voice must be heard and our needs must be fulfilled by our own communities, without fear of being thought too pushy or too shrill," Angelica Salas, executive director of the Coalition for Humane Immigrant Rights of Los Angeles, or CHIRLA, which forms part of the project, said in a statement.

Karla Zombro of California Calls said it is vital to "inspire people to get out and vote," because that is the way to gain greater "respect" from the political class.

The vice president of the League of United Latin American Citizens (LULAC) in the Midwest, Joe Enriquez Henry, told EFE that his organization counts on the participation of at least 15 million Latino voters on Nov. 6, of the 27 million eligible to cast their ballot.

Volunteers are on the lookout for young people who have just turned 18 because, according to Arias, they tend to "doubt whether their votes make any difference."

According to the browser Google, during the first debate of presidential candidates this Monday, the third most popular subject was "register to vote" in Spanish, with more than 100,000 searches, the daily Washington Post said Tuesday.