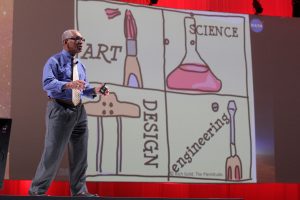 Guadalajara, Mexico, Sep 28 (EFE).- Hundreds of Mexican children and teenagers on Wednesday dreamed of putting on spacesuits and traveling to Mars or other planets during a chat with NASA director Charles Bolden.
Asking questions about space, spaceships and life on other planets, some 1,000 students from poorer areas of the western city of Guadalajara broke the solemnity that had prevailed at the International Astronautical Congress.
Jacketless and with rolled-up shirtsleeves, Bolden got the kids excited with the promise that the United States will send humans to the Red Planet during the 2030s and showed them a video about plans for the first missions to Mars.
Impressed by the images provided by the U.S. space agency about the first efforts to conquer Mars and unable to contain her tears, Silvia, 11, told her teacher that it "was incredible."
The video ends with an astronaut's footprint in the Martian dust, an image that spurred Bolden to say that anyone in that room could be the person who sets foot on Mars for the first time.
The NASA chief encouraged the children to study "hard" if they wanted to wear a spacesuit and become an astronaut, and the kids responded with shouts, cheers and applause.
Then, he gave the youngsters the task of checking to find out who the first Mexican astronaut was and quickly he got an answer from Maria Fernanda Saldaña, whose prize was a NASA pin and patch presented to her by Bolden.
"When we came here we thought it would be something with few people, but being in front of (Bolden) and being with NASA is something really impressive," said the girl, who added that she knew the answer because one of her teachers had given her science class some "interesting facts."
"Is there life on other planets?" asked one child, to which Bolden answered that that's the question that drives NASA, adding that scientists are not certain but they suspect that the answer is "yes."
Bolden went on to say that NASA has been able to monitor and observe other planets closely thanks to the powerful Hubble Space Telescope.
Some of the other questions the kids posed, and the NASA chief did his best to answer clearly and simply, included "Are there aliens at Area 51?" "How long did it take to travel to the Moon?" "What are spacesuits made of?" and "What is a satellite and an asteroid?"
"Never be afraid of failure," Bolden told the children, adding that if the astronauts had been afraid, mankind would never have begun its explorations to understand space better.
The 67th International Astronautical Congress is meeting in Guadalajara until Friday with the heads of space agencies from all over the world in attendance along with more than 3,000 experts, technicians and scientists from 78 countries, who are discussing the advances and challenges of the sector.