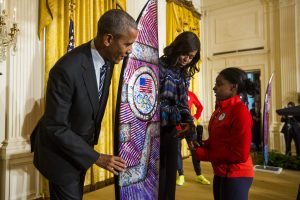 Washington, Sep 29 (EFEUSA).- President Barack Obama paid tribute to the Olympic and Paralympic athletes who competed at the Rio de Janeiro Games, emphasizing that their diversity makes any child in the country able to see himself or herself in them and be "inspired" to meet any challenge.
Obama welcomed the athletes at a White House ceremony and assured them that their efforts inspire others to "be the best at what they do."
"There's no kid in America who can't look at our Olympic team and see themselves somewhere. That's part of the reason why we're successful – because we gather talent from every corner of the globe," said Obama in emphasizing the diversity of the group who garnered the most medals of any nation August Games.
"And through the years of people arriving – whether it's in Ellis Island or Angel Island or coming over the Rio Grande; some cases, coming not of their own accord – we've become something more than just the sum of our parts.
We've become Americans together," he added.
Obama said that there's "something special" in having "all races, all faiths, all traditions, all orientations, all marching together under that same proud flag," not united "by a creed or a color, but by our devotion to an enduring set of ideals."
He emphasized, for example, fencer Ibtihaj Muhammad, who "became the first American female athlete to compete in the Olympic Games in a hijab."
The president also said that the U.S. Olympic victory in Rio "belonged to America's women Olympians," because "we had more women competing in these Games than any nation ever."
Obama emphasized the multiple medal wins of swimmer Katie Ledecky and gymnast Simone Biles, as well as recognizing the first African American to win a swimming gold, Simone Manuel, and the first woman in the world to win an individual medal in six consecutive Olympics, trap and skeet shooter Kim Rhode.
The president had invited to the ceremony the relatives of 18 African American athletes who participated in the 1936 Games in Berlin, but who received no recognition at the time with their white colleagues because of racial segregation.
"It was other African American athletes in the middle of Nazi Germany under the gaze of Adolf Hitler that put a lie to notions of racial superiority – whooped them – and taught them a thing or two about democracy and taught them a thing or two about the American character. So we're honored to have many of their families here today," Obama said.