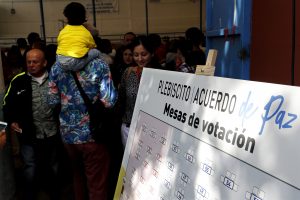 Bogota, Oct 2 (EFE).- Colombians are heading to the polls Sunday to vote in a referendum on the peace agreement between the government and the FARC guerrilla group.
Some 34.8 million citizens are eligible to vote "Yes" or "No" on the agreement between President Juan Manuel Santos's administration and the Revolutionary Armed Forces of Colombia, or FARC, rebel group.
"I just cast my ballot on this historic day," Santos said after voting at precinct No. 1 in the Capitol.
The 11,034 polling places across the South American country opened at 8:00 a.m. and will close at 4:00 p.m., the national elections commission said.
"All Colombians can and should be protagonists in this historic change for our nation," the president said.
Rain is falling in a large portion of the country, with heavy downpours in Bogota, the largest election district, since the early morning hours.
People holding umbrellas stood in line outside polling places in some areas, such as Corferias, early in the morning, ignoring the bad weather.
The referendum will allow Colombia to "end a 52-year war, opening the path for peace, and peace will take us to a better future," Santos said.
Results are expected about an hour after the polls close.
Last Monday, Santos and FARC leader Rodrigo Londoño Echeverri, alias "Timochenko," signed an agreement ending 52 years of civil war in the Andean nation.
The pact is the result of nearly four years of talks in Havana and was signed at a ceremony in Cartagena before more than 2,500 invited guests, including 15 presidents and Spain's King Juan Carlos.
The agreement establishes a timetable for the FARC to lay down its arms and become a legal political organization, as well as an international verification mechanism to ensure that both sides fulfill their commitments.