Los Angeles, Oct 4 (EFE).- Tech giant Google on Tuesday at a San Francisco news conference presented a new family of its products, featuring the new Pixel smartphone and the launching of the Daydream View virtual reality headset.
Pixel was, without a doubt, the star product at the event.
Rick Osterloh, the firm's vice president of hardware, praised the design of the new Google devices and explained that – for the first time – they come installed with the Google Assistant function and will work with virtual reality if one incorporates the Daydream headset.
In addition, he said that the Pixel's camera is the best ever used in a smartphone – with a DxOMark score of 89, the highest ever awarded – and, among other features, it automatically manages image exposure, including pictures taken in low-light conditions.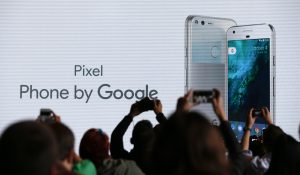 Also, Osterloh emphasized that these phones, which work with the Android 7.1 Nougat operating system, will have unlimited memory capability and will come with the Duo videocall application – similar to Apple's FaceTime – automatically installed.
The devices, described as the first telephones made by Google "inside and out," come in two sizes: the Pixel will have a 5-inch screen, while the Pixel XL's screen will be 5.5 inches in size. Both will have batteries of equal power featuring rapid charge: up to 7 hours of battery life after a 15-minute charge.
Both phones have the Snapdragon 821 processor and are available in three colors: Quite Black, Very Silver and Really Blue.
The U.S. price for the 5-inch model will be $649.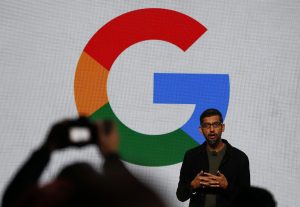 Google CEO Sundar Pichai opened the #madebygoogle conference by giving a review of the company's history and emphasizing that the computer industry is moving to an "artificial-intelligence-first" world, just as it moved to a "mobile-first" world a few years ago.
"Our goal is to build a personal Google for each and every user. We want to build a Google for each user," he said.
Other products about which the company provided details at the news conference were the Google Home voice assistant for the home; Chromecast Ultra, a 4K-resolution video-streaming device for watching online video on large screens; and Google Wi-Fi, a home router.
The Daydream View virtual reality headset will go on sale in the United States in November for $79 and will work with the Pixel and other select Android telephones.