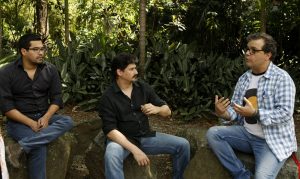 Medellin, Colombia, Oct 4 (EFE).- U.S. society remains blissfully ignorant about Central America's migration problem, according to Carlos Dada, founder of El Faro, the digital news daily of El Salvador and winner of the Gabriel Garcia Marquez Award for Journalistic Excellence.
Dada has been digging into the subjects of migration and violence in the region for the past 18 years.
"American society lives in such amazing comfort that it is completely ignorant of the problem, and only a society so ignorant can explain the success of someone like (Republican presidential candidate Donald) Trump," Dada told EFE in an interview in Medellin, where he accepted the prize that, as the jury indicated, "for the first time has been awarded to a team and not to an individual."
The journalist warned that big media in the U.S. "are beginning to realize…how disconnected they are from their own societies."
"They still don't get how half the people in their country can be Trump supporters," he said.
According to the journalist, those media "are terrified to see that the richest, most developed society in the world…is made up of very ignorant citizens who have the great power to give a dangerous, ignorant clown like Trump the most important, most powerful office in the world."
El Faro journalists were dubbed "the uncomfortables" in a profile by the New Ibero-American Journalism Foundation, or FNPI, founded by Colombian Nobel laureate Gabriel Garcia Marquez, that accompanied the Journalistic Excellence Award.
The FNPI wished to honor "the quality of El Faro's journalism and also the courage of its journalists" who undertake such projects as reporting on the violence in El Salvador.
"Central America continues to be seen in the north as a very violent and very corrupt region," said Oscar Martinez, another El Faro journalist who this year was also honored with the Maria Moors Cabot Prize.
He warned that one thing that is happening is that "the verb 'to migrate,' which had economic implications, now mostly means 'to flee' or 'to escape.'"
"A lot of people are being displaced and are leaving the region because of the violence," Martinez said.
He regretted that Central America "continues to be a region that hasn't found the formula for solving the problems of violence that is terrorizing most of the population" adding that he has "come to believe the reason is because there has been no honest search" for a solution.
"Last year was the most violent year of the century in El Salvador with 103 homicides for every 100,000 inhabitants; of those homicides in 2015, only one in every 10 has been prosecuted up to halfway through this year; in other words, only one in every 10 homicides in the most violent year of the most murderous country in the world had the chance to be punished," he said.
Similarly, the director of El Faro, Jose Luis Sanz, lamented that the political debate about violence "continues to be repetitive, vague and simplistic."