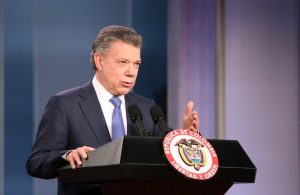 Bogota, Oct 5 (EFE).- Colombian President Juan Manuel Santos on Wednesday called for a unified effort to achieve peace with FARC guerrillas after meeting with predecessor Alvaro Uribe, a staunch critic of the agreement that was signed late last month with the rebels and narrowly rejected three days ago in a national referendum.

"We're very close to achieving peace, a stable and lasting peace with broader popular support," Santos said in a statement after meeting with Uribe, who governed from 2002 to 2010, and other politicians who championed the "no" vote in Sunday's plebiscite.

The parties agreed to create several committees to discuss sections of the peace deal that its opponents reject and make progress toward a solution.

Santos, who served as defense minister under Uribe but has been the target of his predecessor's verbal attacks since taking office and pursuing a peace process with the Revolutionary Armed Forces of Colombia, or FARC, guerrilla group, said he was determined to find a path to not only wrapping up a new agreement with the rebels but making it even stronger.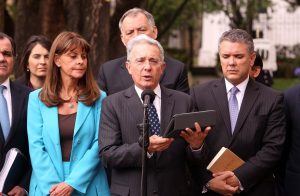 "We listened attentively for more than four hours to their concerns," Santos said of his talks with Uribe and other members of his Democratic Center party, including erstwhile presidential candidates Oscar Ivan Zuluaga and Marta Lucia Ramirez.

"All of them, and others that were not addressed, will be taken up by the committees. This dialogue will begin (Thursday)."

Santos met hours earlier with another opponent of the peace deal – former President Andres Pastrana, who governed from 1998 to 2002 -, thanking him afterward for "his generous attitude and willingness to help safeguard the process at this historic moment."

Santos, who on Sunday night recognized the "no" vote's narrow victory by a margin of 50.21 percent to 49.78 percent, said Tuesday night that a new bilateral cease-fire had been decreed with the FARC and would expire on Oct. 31.

The two sides had earlier reached agreement on a cease-fire that took effect on Aug. 29 and expired on Sunday, the day of the referendum.

A new cease-fire directive was needed in the wake of the referendum result and could be further extended if necessary, the Defense Ministry said in a statement.