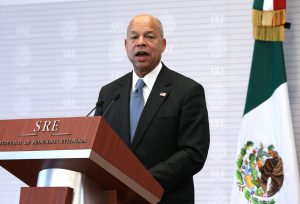 Mexico City, Oct 11 (EFE).- U.S. Homeland Security Secretary Jeh Johnson said in Mexico on Tuesday that Washington and Mexico City would work together to find new ways to deal with security matters, especially those related to immigration.
Johnson said during an appearance with Foreign Relations Secretary Claudia Ruiz Massieu that it was essential for the two countries to work together.
The homeland security secretary noted that each year on George Washington's birthday, a Mexican boy and an American boy exchange a symbolic hug on the international bridge linking Nuevo Laredo, Tamaulipas, and Laredo, Texas.
Johnson said he expected that the tradition would continue regardless of who wins the Nov. 8 presidential election in the United States.
Ruiz Massieu, for her part, said the two Cabinet officials discussed "how to better and jointly deal with migratory challenges" and expand "cooperation on the border, so it can be increasingly more efficient, orderly and safe."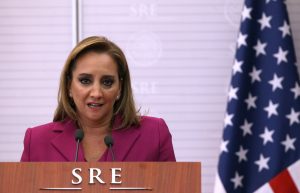 Mexico and the United States have pursued a diverse bilateral agenda, moving away from focusing just on security and incorporating other areas, such as innovation and competitiveness, during the Obama administration, Ruiz Massieu said.
"The mechanisms of cooperation have been institutionalized," Ruiz Massieu said.
The foreign relations secretary expressed hope that the future "will be more promising as we continue building a relationship based on trust, respect and greater understanding."
Johnson later met with Attorney General Arely Gomez to discuss the extradition process, immigration and people trafficking, the Attorney General's Office said in a statement.
Johnson, Ruiz Massieu and Government Secretary Miguel Angel Osorio will participate in a conference on border affairs on Tuesday afternoon.