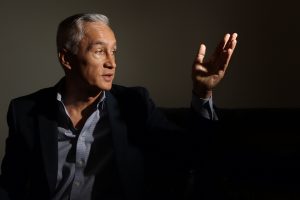 Los Angeles, Oct 18 (EFE).- Jorge Ramos, one of the most influential Latino journalists in the United States, said in an interview with EFE that the Nov. 8 presidential election constitutes a "referendum" on Republican presidential nominee Donald Trump, whose rhetoric, he said, has increased "racism and discrimination" in the country.
"These elections are going to determine the new U.S. direction," the Mexican-American journalist said.
"That direction currently is very clear: in 2044, whites will be a minority and this country will be more and more multiethnic, multicultural, multiracial and multilingual," the Univision news anchor said, adding that Trump "is the candidate of the resistance, who wants to prevent that from happening."
"He's the candidate of hate and exclusion. Never in modern U.S. history have we had such a clear dilemma: choosing between a tolerant country comprised of minorities or a racist country comprised of a white majority," he said.
Ramos said that the Spanish-language media in the United States, denounced "the danger Trump represents when English-language media didn't dare to do so."
"We, including you at EFE, certainly did it, and we should be very proud of the reporting in Spanish in the U.S. because we were the first to identify the danger and denounce it. The English-language media delayed quite a long time in reacting," he said.
When asked whether Hispanic media are placing enough emphasis on the importance of the legislative elections, Ramos said that Nov. 8 is mainly "a referendum on Trump" and "everything else is secondary."
"If Trump loses, whoever wins the White House will have to battle Congress, and promises for immigration reform in the first year are empty promises if they don't have that support. But, in the final reckoning, the main thing is yes or no on Trump," he said.
EFE chatted with Ramos in the context of the documentary entitled "Hate Rising," which will be broadcast on Fusion and Univision on Oct. 23 in English and Spanish, respectively.
Directed by Catherine Tambini and with Ramos as a key figure, the work examines the reasons for the rise in hatred, racism and discrimination in the United States, a film that the reporter hopes will help get Latinos to register to vote and to go to the polls on Nov. 8.
"The increase in racist groups and hate crimes began after the election of President Barack Obama," said Ramos, adding that "now it's increased with Trump's candidacy."
"We were all wrong to think that racism and discrimination would end with the election of the first African American president. It's been the opposite. Racist groups have rallied. They're people who resist the idea that whites will be a minority in 2044. And that terrifies many here," he said.
Ramos confessed that during the months he spent conducting his investigation, he discovered "the dark side of the U.S."
"I've been here for 33 years and I had never seen so much racism and hate. I didn't expect a candidate for president to kick me out of a press conference and, right after that, that one of his supporters would say to me 'Get out of my country.' Hate is contagious, and expressions of hate are more present now than before," Ramos said.
During the documentary, Ramos interviews representatives of the Ku Klux Klan, the Alt-Right movement and even white supremacists, whose speeches – he says in the documentary – have acquired a place in Trump's ideology.
Ramos also spoke about the objectivity of his journalism vis-a-vis the Republican candidate, saying "We must be objective and present reality as it is. But there's another level of journalism, and when we confront racism, discrimination, corruption, public lies, dictatorships and human rights violations … In those cases we can't be neutral. We have to take sides. I resist the idea of simply being a tape recorder."
"Our main social vocation as journalists is to question those who have power and those who want it," said Ramos, who on many occasions has been characterized as an "activist" for his "committed" journalism.
"I'm a journalist who asks questions, and at certain times I feel that you have to takes sides. (Nobel Peace Prize winner) Elie Wiesel said that neutrality always helps the oppressor and not the oppressed. That must be remembered. We can't be neutral in those cases, nor should we," he concluded.