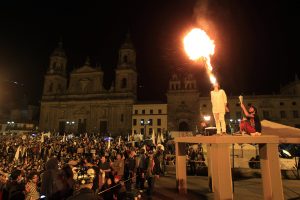 Bogota, Oct 21 (EFE).- Hundreds of people gathered in Bogota's Bolivar Square to light a torch meant to stay illuminated until Colombians achieve a consensus for peace in the wake of the Oct. 2 referendum that rejected an accord negotiated by the government and FARC rebels.

The torch rests on a large platform representing the table in Havana where representatives of the government and the guerrillas have spent nearly four years seeking an end to a conflict that began in 1964.

President Juan Manuel Santos insisted Thursday on the need to expedite the process for a new agreement with the Revolutionary Armed Forces of Colombia, or FARC, to "end the uncertainty" created by the referendum result.

Slightly more than half of the fewer than 38 percent of registered voters who went to the polls on Oct. 2 voted "no" on the peace deal.

"The idea is to congregate around (the table) to say that we are exerting pressure, that we are monitoring, that we are watching what's happening there (in Havana)," Maria Adelaida Melo told EFE at the event Thursday night.

The torch-lighting, organized by college students, accompanied multiple demonstrations across the country demanding an agreement among the government, the FARC and the Colombians opposed to the peace pact.

Before igniting the flame, participants chanted pro-peace slogans, danced around the platform to the sounds of Andean music, and observed a minute of silence to honor victims of the conflict.

Then, as attendees turned on the lighted screens of their cellphones, a woman clad in white lit the torch and the crowd sang the Colombian national anthem.

Sharing Bolivar Square with the torch display was a space commemorating the more than 4,000 people slain decades ago by right-wing paramilitaries in a campaign to wipe out the Union Patriotica, a leftist party formed in 1985 during an earlier peace process between the FARC and the government of then-President Belisario Betancur.