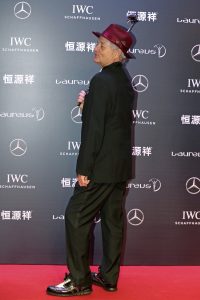 Washington, Oct 24 (EFE).- US actor Bill Murray received the Mark Twain Prize for American Humor at a gala in which he demonstrated his sense of irreverence and cast doubts on the "respect" that led him to the award.
"I don't think it will get me any more respect around the house," said Murray, the star of hit films such as "Ghostbusters" (1984), "Lost in Translation" (2003) and "Groundhog Day" (1993).
The ceremony was held at the Kennedy Center in the US capital and was attended by other comedians including David Letterman and Jimmy Kimmel. Murray, 66, follows last year's winner, Eddie Murphy.
In brief remarks to the Washington Post newspaper, the actor joked that he had tried to dodge the prize and decided "not to answer the phone for awhile" to see if "they'll move on to someone else".
"But all these people called from everywhere," he said.
On Friday the actor was seen in the White House press room wearing a cap and a jacket of his favorite baseball team, the Chicago Cubs, shortly after the daily briefing by presidential spokesman Josh Earnest.
Murray had a brief meeting with President Barack Obama, who is a fan of another baseball team from Chicago, the White Sox.
"He was wearing a Cubs jacket – which for a White Sox fan is a little troubling," Obama commented.
The prize was first awarded in 1998 and recognizes US comedians who influence society in the tradition of Samuel Clemens, better known as Mark Twain, the writer, satirist and social commentator during the 19th and early 20th century. EFE