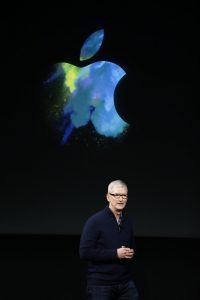 Los Angeles, Oct 27 (EFE).- The latest version of Apple Inc.'s MacBook Pro features a fingerprint sensor and a multi-touch retina display above the keyboard, among other features, the company said Thursday.
Apple unveiled the first big changes to its flagship notebook in two years during an event headed by CEO Tim Cook at the Cupertino, California-based company's headquarters.
The event took place just two days after the release of the company's financial results for its fiscal 2016 fourth quarter showed a drop in annual revenue for the first time since 2001.
"For 25 years we have been defining and redefining what a notebook is and what a notebook can do, and today and we are going to do it again," Cook said during his presentation.
The main innovation of the latest MacBook Pro is an OLED application-specific, customizable touch display panel known as the Touch Bar that replaces the function key strip at the top of the keyboard.
When the Safari Web browser is in use, for example, the Touch Bar displays the user's favorite Web sites; but when the word processor is open, the display will change and instead predict the next words the user wants to type.
The MacBook Pro also includes Touch ID, a fingerprint recognition system that allows users to unlock their computer and safely make purchases online.
The new laptops, which come with either a 13-inch or a 15-inch display, will be thinner and lighter than the previous version and have four Thunderbolt ports.
A new version of the MacBook Pro without Touch Bar is also available and costs $1,499.
The 13-inch and 15-inch versions that include the Touch Bar start at $1,799 and $2,399, respectively.
The new computers are available for order starting Thursday, although shipments of the notebooks with Touch Bar will not start for two or three weeks.