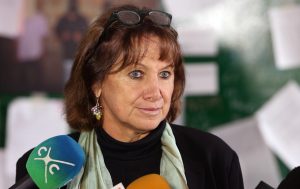 Bogota, Nov 1 (EFE).- The 16th World Summit of Nobel Peace Laureates will gather at least 16 recipients of the prestigious award in Bogota, promoters of the event announced Tuesday.
To date, three women from among the 16 recipients have confirmed their attendance at the Feb. 2-5, 2017 summit although expectations are that ultimately about 20 prizewinners will be on hand, Monica de Greiff, the president of the Bogota Chamber of Commerce, which has been promoting the Colombian capital as the summit site, told reporters.
At the summit, promoters are seeking to provide attendees with "the possibility to recount their experiences," and Colombians will be able "to learn and exchange opinions with them," De Greiff said.
She said that she wants "for it to be an event for the whole city where we can learn the best practices" and where both civil society and businesspeople can understand "that in a secure, respectful environment of dialogue things are going to improve for everyone."
De Greiff said that this will be the first time for the summit to be held in the Americas, and she emphasized that coincidentally the host country is that of this year's Peace Prize winner, Colombian President Juan Manuel Santos.
"It's a coincidence. But for 11 years we've been working on this issue, we had presented Bogota and we're in the peace process that, of course, had some (influence)," she said, referring to the ongoing peace process between the Colombian government and leftist guerrillas.
Among the award winners who have confirmed their attendance are several former presidents – Jimmy Carter of the United States, Mikhail Gorbachev of the former Soviet Union, Oscar Arias of Costa Rica, Frederik de Klerk of South Africa, Jose Ramos-Horta of East Timor and Lech Walesa of Poland.
Also, the former prime minister of Ireland, David Trimble, Iranian human rights defender Shirin Ebadi and Yemen's Tawakkul Karman, among others, will attend.
The Bogota chamber, via the Convention Bureau, spearheaded the Colombian capital's candidacy as the summit site during the yearlong application and selection process.
The summit is considered to be a tool for building peace and seeking mechanisms to end war and achieve disarmament and reconciliation.
De Greiff said that such summits produce "specific projects where the Nobel Prize winners support new experiences that we transmit to all of society."
Colombia is currently in the process of continuing to negotiate an end to its half-century civil war between the government and the Revolutionary Armed Forces of Colombia, or FARC, guerrillas, although a peace pact between the two sides recently was narrowly voted down in a national referendum.