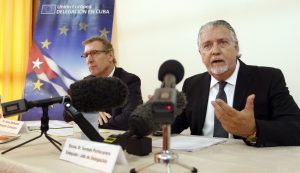 Havana, Nov 2 (EFE).- A new agreement that will open a new phase in the European Union's relations with Cuba is tentatively scheduled to be signed on Dec. 12, a senior diplomatic official said Wednesday.
The head of the 28-member bloc's delegation in Cuba, Herman Portocarero, announced that date at a press conference during the 35th Havana International Fair, saying the Political Dialogue and Cooperation Agreement would substitute monologue for dialogue and establish a solid legal basis for the overall relationship between the EU and Cuba.
From 1996 to the present, those relations have been governed by the so-called "Common Position," adopted at the urging of then-Spanish Prime Minister Jose Maria Aznar.
That policy makes improved ties between the bloc and Havana contingent on democratization and respect for human rights on the Communist-ruled island while also encouraging direct contact between EU officials and Cuban dissidents.
The agreement to be signed on Dec. 12 in Brussels contains many more subjects to be covered through dialogue, including in the areas of politics and human rights, while also promoting society-to-society dialogue, Portocarero said.
The EU and Cuba wrapped up negotiations on the new accord in March, concluding a nearly two-year effort that coincided with the historic normalization of bilateral relations between the United States and the Caribbean island.
In September, the European Commission formally proposed that member-states back the new political dialogue and cooperation agreement, saying that once it is signed it will "become the instrument that defines the EU's external relations with Cuba, superseding the 1996 Common Position."