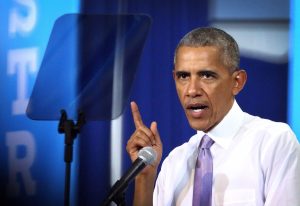 Washington, Nov 9 (EFE).- U.S. President Barack Obama telephoned President-elect Donald Trump early Wednesday to congratulate him on his victory and invite the Republican to the White House to discuss the transition process.
In a statement, White House spokesman Josh Earnest said Obama had also spoken to Democratic presidential candidate Hillary Clinton to "express his admiration for the strong campaign she waged throughout the country."
The White House announced that the president would give a speech Wednesday to talk about the results of the election, in which Trump won a clear victory and the Republicans held on to both houses of Congress.
In his speech, the president will comment on "what steps we can take as a country to come together after this hard-fought election season," Earnest said.
Obama invited Trump to a meeting on Thursday to "update him on the transition planning his team has been working on for nearly a year," the spokesman said.
"Ensuring a smooth transition of power is one of the top priorities the president identified at the beginning of the year and a meeting with the president-elect is the next step," Earnest said.
Obama repeatedly warned during the campaign that the real-estate mogul was temperamentally unfit for the country's highest office, although he also has said in recent months that he is committed to a smooth transition of power regardless of the outcome.