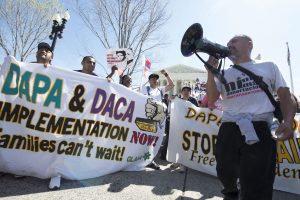 Miami, Nov 10 (EFE).- Thousands of "Dreamers" fear that their dream of obtaining legal residency under the so-called DACA measure will vanish on Day 1 of Republican Donald Trump's presidency, after he promised during his campaign to overturn the 2012 executive order establishing it signed by President Barack Obama.
Undocumented migrants are afraid because Trump can remove DACA "on the first day" he becomes president, Julio Calderon, an activist with the Florida Immigrant Coalition, told EFE on Thursday.
Cancelling DACA, which has benefited some 800,000 undocumented migrants, is part of Trump's immigration plan, which also includes building a wall along the U.S.-Mexico border and deporting "all" immigrants without the proper papers.
The beneficiaries of Obama's unilateral immigration relief measure, students who were brought to the United States as young children by their undocumented parents, fear they will have to "return to the shadows" and will again be subject to deportation.
Calderon said that it would be very "sad" to see Trump cancel Deferred Action for Childhood Arrivals, or DACA, something that will have "political and economic repercussions" since it will affect new taxpayers and employers.
Overturning DACA would also cancel the "temporary" legal permission for "Dreamers" to work and the chance to get a driver's license, which makes it easier for them to travel by air, along with several of the guarantees it provides to them by giving them a government-issued identity document.
Trump has promised to immediately eliminate Obama's two "illegal" measures, according to his campaign Web site.
The site adds that all prevailing immigration laws will be enforced under a Trump administration, the number of Immigration and Customs Enforcement agents will be tripled and anyone who enters the country illegally will be subject to deportation.
Trump appealed almost exclusively to a white voter base, and so he never moderated his immigration positions, Maria Bilbao, with the pro-immigrant group United Family, told EFE.
The DACA beneficiaries, who provided their fingerprints and personal data to be included in the measure, along with admitting that they were undocumented, now fear that that information could be used to deport them, as well as their relatives.
DACA temporarily halted the deportation of some 360,000 people in California, 200,000 in Texas and 68,000 in Illinois.
Two other executive orders Obama signed in 2014 – which Trump also may overturn – expanded immigration benefits to some five million undocumented foreigners, including more students, foreign parents of U.S. citizens and legal U.S. residents, although those were blocked in early 2015 in federal court by 26 state governors, most of whom are Republicans.