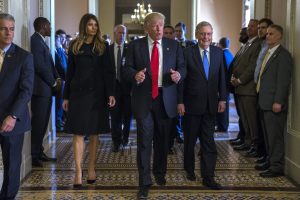 Washington, Nov 10 (EFE).- President-elect Donald Trump on Thursday met in Washington with the Republican leaders of Congress: House Speaker Paul Ryan and Senate Majority Leader Mitch McConnell.
Ryan hosted Trump, along with his wife Melania and Vice President-elect Mike Pence, for lunch at the Capitol Hill Club and then the group met in the speaker's Capitol office, with Ryan showing the president-elect the expansive view from the balcony overlooking the Mall.
"I think we're going to do some absolutely spectacular things for the American people," Trump told reporters, seated beside Ryan at a conference table after the meeting.
After his meeting with McConnell, Trump went on to say that his top priorities would be taking action on immigration and border security, along with health care and creating "big-league jobs."
"We can't get started fast enough. And whether its health care or immigration, so many different things, we will be working on them very rapidly," Trump said.
The real estate mogul said that he and Ryan had agreed that they would lower taxes and create a system for affordable health care, alluding to President Barack Obama's health care reform – known as Obamacare – which Republicans have been fruitlessly trying to overturn for years.
Ryan, meanwhile, told reporters that the group had had "a fantastic, productive meeting," adding that he and Trump had discussed how "we're going to hit the ground running" and "make America great again."
Ryan had said Wednesday at a Wisconsin news conference that "Donald Trump heard a voice out in this country that no one else heard. He connected … in ways with people no one else did. He turned politics on its head and now Donald Trump will lead a unified Republican government."