April 18, 1990
By Yolanda Reynolds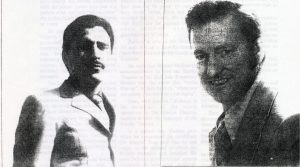 La Oferta Review recently interviewed and reported the responses of the mayoral candidates who early on announced their intent to run for that office early in the campaign.
Several more citizens announced their intent to run for the Mayor's seat just before the deadline for announcing mayoral candidacy was reached.
On of the candidates is Louis Garza. He is without a doubt the youngest (32 years old) of the candidates. He contends that more attention and money is needed to curb the drug problems in this city.
Louis moved here from San Antonio, Texas in 1966. His experience in school involved teachers who repeatedly told him he was no good. He says that he offers to the young his practical experience in overcoming that stigma. He says young people need to develop ways in which they can channel their energy. The young, he says, can be led to a vision for themselves wherein they will succeed and thereby receive the recognition they seek.
As an example of the search for recognition, Garza describes an encounter he recently had with some youths who were spray painting graffiti on a wall. Louis called to them as they fled. He followed them that he understood their desire for recognition. Louis shared with them his own experience and how he, Louis, was making a difference.
Louis at twenty served in the Air Force. He has had a wide variety of jobs. Garza has been a construction foreman. In between jobs he volunteers his time entertaining the elderly at rest homes. He says he is a "free spirit," and enjoys being who he is. Garza says his garb, a three-piece suit and hat reminiscent of the early 70's has caused the police to harass him. In fact, he says an arrest recently by the San Jose police convinced him it was time for a change in City Hall.
Louis says he does not drink or use drugs. In fact, he is a lay minister at the New Hope Community Church that meets at the Seventh Day Adventist Church on Sundays at 7:30 So. 2nd St.
When he was arrested for being drunk and disorderly he says that the police did not take a urine test or breath test. At the time he did not have enough money for a lawyer, so he did not seek a redress of this incident.
Garza says that his decision to run for Mayor came as a result of his many life experiences, particularly his recent experience with the police. Louis says that if a person does not look "like a robot" the police think the person is drunk or crazy.
He says that when becomes Mayor, the police and city personnel will learn to "treat everyone with RESPECT." He says that Benito Juarez said that everyone should be treated with respect. Louis, born in Juarez' birthday, says he follows Benito's example.
The San Jose Police are not the only enforcement staff that he feels need to change their attitude Louis points to the transit officers who, he says, claim they can tell who is lying to them about lost transit passes.
The Mercury News also comes in for criticism for the manner in which it covers stories involving the Hispanic community. Garza says that contrary to the Merc's image of Latino's, the majority are very hard working people.
At one mayoral forums, Louis was unfamiliar with the details of the 20% housing funding. In response to the request for specifics as to how the mayoral candidates would finance affordable housing; Louis, being last to respond, said that Susan Hammer's and Shirley Lewis' responses so impressed him that he would hire them both as aides when he becomes Mayor.
Louis says that, right now, one of the most pressing issues is the Fallon statue. He says that the City is spending 1.3 million dollars on a parking lot and restroom for the birds.
Garza says that he has adopted the slogan "Aspiring to be someone in order to help everyone." As Mayor he says he plans to help everyone.
He has opened several Campaign locations, but the main location is at "El Lugar Chale," a restaurant on 163 W. Alma near the DMV. The Garza for Mayor telephone number is 279-9742.
Don Houston is a Realtor (Vision Realty) in San José. He has lived in San José for 48 years. He moved from Texas. Don has been married for 43 years. He and his wife Ruth are the parents of four adult children, and the grandparents of eight.
Politics is new to Mr. Houston. He says that up to now his energies have been focused on his family and business.
He says that Mayor McEnery's announcement to give the Studio Theatre to the San Jose Repertory Theatre was the event that "woke him up." In fact, he says, "when you are asleep you can lose your rights."
Don, with Sandra Cardenas, is the co-owner of the movie operation at the Studio Theatre.
In a speech that Houston gave when he announced his candidacy for Mayor, Don said that he was angry at the manner in which the Studio situation was handled. He says "when a governmental agency threatens to take your personal, private property rights and give it to another party (it) should make the citizens of San Jose mad too."
In fact, many citizens have been angry about citizen displacement for a long time. Sofia Mendoza led a battle against similar treatment when many families, most of the Hispanic, were displaced from their homes and neighborhoods so that the City could build the Convention Center and the Technology Museum.
The Guadalupe Auzerais Neighborhood Association, with Sofia, began battles with the City, and the Redevelopment Agency in 1985. The controversy lasted four years, eventually went to court, and has still not been resolved.
According to Mendoza, the City has not yet begun to comply with the court order issued in behalf of the former Guadalupe Auzerais residents.
Houston says that rapid transit will solve the shortage of affordable housing by linking San Jose with other nearby communities that do have affordable housing.
Houston also proposes a number of changes in fire and police training, as well as expanding their role in the community. He proposes that there should be cross training making police persons expert on fire protection and vice versa.
Houston also proposes that police, fire stations, neighborhood libraries and parks all be located on one piece of property.
Here again, he says, the fire and police personnel could become more active in youth support league activities or other community oriented programs.
Don says that he offers an alternative to the "so called top three contenders" for the mayoral seat. He says that the two City Hall mayoral contenders are just now discovering the neighborhoods.
He says they now also admit to having made errors. Don says the citizens of San Jose can't afford them for four more years while they get educated. Houston says "let them get their education somewhere else rather than at the taxpayer expenses."
Houston feels that government leaders should express their personal feelings on issues. He gives as examples his anti-choice, anti-abortion and anti-pornography stance. With regard to the latter, he proposes a sure tax on each photo distributed exhibiting genitalia.
Houston says his campaign headquarters are scheduled to open in the next week at 1190 Lincoln Avenue in Willow Glen.