Bogota, Nov 15 (EFE).- The peace agreement signed last weekend with the FARC rebels is "definitive" and all that remains to be discussed is the matter of ratification, the Colombian government's chief negotiator said Tuesday.
"This is the final agreement," Humberto de la Calle told a news conference at the presidential palace. "Really, what comes next is a discussion on the ways this pact will be ratified."
The pact announced last Saturday in Havana is "a truly new accord, authentically new, that includes more than 80 percent of the concerns of those who voted 'no,'" in an Oct. 2 referendum on the original agreement, De la Calle said.
A narrow majority of the fewer than 37 percent of voters who cast ballots last month rejected the text signed on Sept. 26 by President Juan Manuel Santos and the leader of the Revolutionary Armed Forces of Colombia, or FARC, to end a 52-year-long armed conflict.
Critics of the original pact, led by right-wing former President Alvaro Uribe, say the government should not describe the new agreement as definitive until the "no" voters have read and approved the document.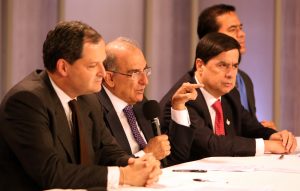 "This is the final agreement, this is the definitive agreement," De la Calle said Tuesday. "There really is no room for a new negotiation."
The new text is the result of long days "of meticulous work with FARC" in Cuba and represents the only basis for progress, he said.
Colombia's high commissioner for Peace, Sergio Jaramillo, who took part in the press conference along with De la Calle, negotiators Frank Pearl and Roy Barreras, and Interior Minister Juan Fernando Cristo, said that the rebels "worked with much maturity, much political realism, listening to Colombians."
The FARC "accepted a lot of things that are not easy for a guerrilla army to accept," including the loss of concessions they had gained in the first peace agreement, Jaramillo said.
Ratification of the new pact, De la Calle said, "should come in the shortest period of time possible."
Colombian leaders must decide whether the ratification will be done by Congress or through a second referendum.