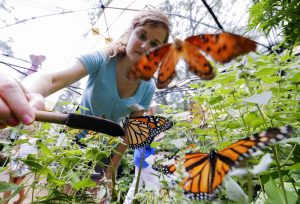 Mexico City, Nov 16 (EFE).- Monarch butterfly hibernation sanctuaries, located in the states of Mexico and Michoacan, will open their doors for tourism from Nov. 23, 2016 to March 31, 2017, the Mexican Commission of Natural Protected Areas (CONANP) announced Wednesday.

The monarch butterfly, characterized by its large distinctive orange, black and white patterned wings, migrates every fall up to 4,200 kilometers from Canada and the northern United States to spend the winter hibernating in Mexico.

During the last two weeks, the National Monarch Butterfly Monitoring Network has observed the arrival of many thousands of the butterflies flying in the skies of the Mexican states of Coahuila, Nuevo Leon, Tamaulipas, San Luis Potosi, Queretaro and Guanajuato.

CONANP called on citizens to participate in the campaign "Lets Protect the Monarchs" to join their efforts to help trace the butterflies' migratory routes whilst in Mexico and conserve their hibernation habitats.

In August, the World Wildlife Fund (WWF) reported the positive development that there is a 40 percent decline in illegal logging in the Monarch butterfly main overwintering habitats in Mexico.